Homebuilders search for reasons to be hopeful
'It has been so bad for so many years. It doesn't take much to make people feel better,' says Kendall Buck, executive president of the Home Builders & Remodelers Association of N.H.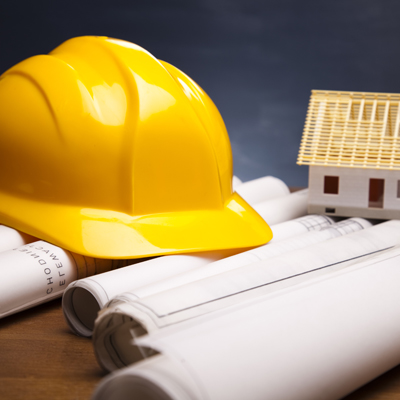 There's no way around it: Today's homebuilding statistics, especially when compared to the boom years, are depressing.
New Hampshire is "really struggling right now," said Elliott Eisenberg, former longtime economist for the National Association of Home Builders and currently president and chief economist of Washington, D.C.-based GraphsandLaughs.net. "Your permits are anemic. You were on the top of the world, but you haven't regained your mojo."
But on the other hand, you can talk to Everett Pollard, owner of Northcape Design Inc. in Sunapee, who is adding golf stimulation rooms that cost as much as a starter home into lakeside houses.
Or Geoff Martin, president of Cedar Mill Group Inc. in Webster, who has seen inquiries increase by 55 percent.
Or Kendall Buck, executive vice President of the Home Builders & Remodelers Association of New Hampshire, who notes that his organization's home show in March recorded its largest attendance in a decade, and the association's membership, after shrinking for six years, is beginning to grow again.
"My sense is there is a great deal of optimism," Buck said. "We'd like to see that optimism turn into a reality. It has been so bad for so many years. It doesn't take much to make people feel better."
'Pretty minimal'
The Great Recession hit almost every sector of the economy, but perhaps no one stronger than the construction industry, particularly in New Hampshire.
Homeowners were trying to keep their existing homes afloat, even while those homes were sinking underwater, drowned by debt, engulfed by waves caused by foreclosures all around them. Those who could buy snapped up existing homes at a bargain, so few people were thinking about building a new home.
The permit data reflects that reality all too well. In 2004, nearly 8,500 residential building permits were filed in New Hampshire — almost 6,500 for single-family homes. Five years later, there were little more than 2,200 total permits — 1,663 for single-family homes.
After a small boost from a federal tax credit in 2010, the numbers fell again, and improved only slightly last year, to more than 2,500 permits, less than 1,900 of them for single-family homes.
But there has been some good news. Those who couldn't buy often remodeled, and those remodels were often a beacon for the unutilized tradesman.
In addition, there does seem to be some statistical hope on the horizon. Things have picked up thus far in the first quarter of the year. Single-family building permits are up 20 percent. But even if that pace keeps up, it will produce a total of 3,000 permits for the year, with 2,200 of them for single-family homes. That's about a third of the total during the building boom of a decade ago.
While some homebuilders have noticed the improvement, or see it coming, others are less hopeful.
"Pretty minimal to be honest," said Kim Moore, president of Madison Lumber Mill, of his business in New Hampshire. "Kind of a dud. I send more wood to Pakistan now than I do to New Hampshire. We are all smothering ourselves with lumber."
The recession hit the entire nation, and New Hampshire didn't fall into as big a trench as most other states. But it has been slower than many others in recovering.
"New Hampshire didn't come flying out of the recession. We were kind of loping around," said economist Russ Thibeault of Applied Economic Research in Laconia.
New Hampshire, for instance, used to have the lowest unemployment rate in New England. That honor now belongs to Vermont.
The same could be said for homebuilding.
"For a very long time, New Hampshire was the happiest place in the country," said economist Eisenberg. "It was a pretty popular place to go to escape taxes. Permit growth was quite high for a very long time. But in 2007, things started to slip, and you haven't really recovered. You used to be number one, but now you have fallen behind other states."
Demographic trends
In the last few years, the Massachusetts housing market has been leading the region, not that it's going gangbusters there either.
"It has been a competition among weaklings," Eisenberg said of the New England housing market in general.
No one is really sure why that is. Eisenberg surmises it might have to do with a slowdown in population growth, which also began to stall around the same time.
"In the heat of the market, people were moving there, and then suddenly it just plain stopped," he said of New Hampshire. "With no population growth, there is no construction."
Actually, there was some growth in the Granite State, but not much. From 2006 to 2012, population increased by 12,500 people out of a population of about 1.3 million — or a tenth of a percent over a period of six years.
Even worse, that growth has been purely organic, not due to all those young couples coming from Massachusetts to escape state income taxes. Indeed, said Ken Johnson, a demographic expert at the Carsey Institute at the University of New Hampshire, there has been a net loss to Massachusetts and other states.
All this accentuates a long-term trend: the graying of the Granite State. New Hampshire was already getting older, and it is younger people who buy that starter home. And it is the 30-something who's ready to move up who will sell them that starter home. With few buyers from outside the state to get things started, more people are staying where they are.
But that doesn't mean that nothing moves at all.
De Desharnais, vice president of operations at Ashwood Development Companies in Hudson, is selling new homes — to the 55-and-older set.
"We are doing probably double of what we used to do four or five years ago," she said. "You can just feel it. More people are ready to move forward than just negotiate the crap out of everything."
Martin, of the aforementioned Cedar Mill group, has become a Certified Aging in Place Specialists (CAPS) — an expert in things like accessible showers, ramps, wide doorways — just to take advantage of this market. There are the in-law apartments, or perhaps it's the kids coming back with the grandchildren taking the old house, while the elderly relatives move into that brand new addition.
"If I look at the leads received in the last 90 days, 40 percent has some component of that," said Martin. Indeed, "the last six or eight houses we've built, every single one of them is for someone who is downsizing: 1,400 to 1,900 square feet. Attached garage and one-floor living. That's what people want."
People are also renovating to rent out those empty rooms on the second floor to help those on fixed incomes pay their property taxes. And renting those rooms out has become easier, because a bad market for home sales often means a good rental market. Indeed, multifamily housing has made something of a comeback in New Hampshire, said Thibeault.
"Vacancy rates are low, and rents are going up," he said. "I think there are probably 500 new rentals in southern New Hampshire. That's the most I've seen in 20 years."
Indeed, in the first quarter of this year, multifamily housing starts rose 27.1 percent, compared to 18.4 percent for single-family homes. This doesn't help most homebuilders, but it is resulting in more work for contractors in general. Indeed, builders are noticing that some subcontractors are getting a little busier, and charging a little more.
'Getting stronger'
Other niches are using current market conditions to their advantage as well.
Take modular-home builder Epoch Homes, which had to cut back like everybody else, reports John Ela, CEO of the Pembroke-based firm, who laid off about two-thirds of his workforce at the factory.
"We expected to be hurt by the downturn, but nothing like this," he said.
But the downturn also meant that more contractors who normally used to stick to "building in the middle of a field" have agreed to take the training to build the custom modulars. That means that Epoch's contractor network has increased fivefold, from 50 to 250 contractors, putting the company in place to take advantage of an upturn.
Those contracts can also spread the word that modular homes are more than "cookie-cutter" doublewides. Some of Epoch's homes are of epic scale, including an 8,000-square-foot mansion that sold for about $8 million.
Ela isn't alone in seeing encouraging signs.
"Business is starting slow this year, but it's like a tsunami: Where is all the water? That just means a good-sized wave is in process," said Martin of Cedar Mill Group.
He said he has noticed that the recovery seems to be moving up from Massachusetts, starting in places like Salem and Nashua, and even starting to reach Bow.
Maybe that's why East Coast Lumber, located in Hampstead, is starting to sell more lumber.
"Overall, it seems to be getting stronger," said General Manager Tom Hampton. "It seems to be cooking — not booming, but much stronger than last year."
There's also a return of deep-pocketed second- and third-home owners to the lakefront. They're adding high-end kitchens with large glass windows, solar panels, geothermal heaters, luxurious home theaters and even huge rooms devoted to indoor golf, said Pollard of North Cape Design.
The latter requires the space for high ceilings and huge screens on which you can project simulations of some of the best golf courses in the world. And after the player hits the ball, it doesn't just drop to the floor after hitting the screen. The ball's image just keeps on going.
And that is everybody's hope for this building season: that the economy won't just stall and fall. It will just keep on going, soaring far away from the economic quagmire that it has been stuck in for so many years.