Home for a change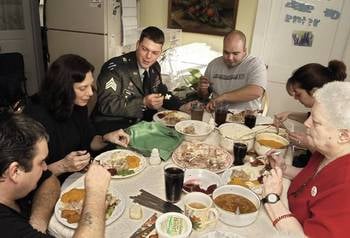 NASHUA – For the first Thanksgiving in years, Roseanne Kazlouskas did not have to wrap her son's plate up and put in the freezer.
This is the first time in more than five years that Justin Hamel, who is a demolitions engineer in the Army, has been home for the holiday.
His 10-day leave just happened to coincide with the holiday.
"It's good to be here," he said, sitting in an armchair at his mother's Lock Street home. "I haven't had Thanksgiving."
By midmorning, the home was starting to fill up with Hamel's four brothers and sisters and nieces and nephews. Smells of the coming meal wafted into the living room as children tried cracking a bowlful of nuts.
A nephew eagerly showed him two Hulk action figures and some cards.
Last year, Hamel was in Georgia for the holiday, and the year before he was in Kuwait. Usually, Kazlouskas filled a plate for him and put it in the freezer for Hamel to heat up when he arrived home.
However, he won't be home for Christmas. At the end of his leave, he'll be heading to the Baghdad area.
Hamel is a member of the 10th Engineers, 3rd Infantry Division, which led the charge into Baghdad and was in Fallujah, a spot of heavy insurgent activity.
When his second four-year contract ends, Hamel does not plan on rejoining. Rather, he hopes to go to Germany to be with his wife, Katrina, while she finishes her studies.
The two met when he was stationed in Germany.
About 15 people were coming for dinner Thursday, mostly immediate family. Afterward, Hamellives in Londonderry.
"It's pretty much life as usual and that's the good part," Kazlouskas said.
Since coming home, Hamel helped his sister, Kim Byron, move and spent time with his family.
"I tried to make up time with my friends," he said. "The friends I had before the military."
Hamel said he's trying to have some sense of normalcy before going back to Baghdad for more than a year.
It's different knowing that when her brother leaves soon he'll gone for such a long stretch, Byron said. He will be getting a 2½-week break that he'll spending in Germany with his wife.
When Hamel first enrolled in the Army, Kazlouskas said she was worried that he would change or come home a different person.
She doesn't worry about that anymore.
"I'm worried about his safety," she said.
For now, his family is just enjoying spending time with Hamel, thankful for his presence during the holiday.
His absence during past Thanksgivings stood out, younger sister, Lindsey Kazlouskas said.
"I'm used to the whole family being here," she said. "It didn't feel normal."