Hollis girl donates second ponytail for kids in need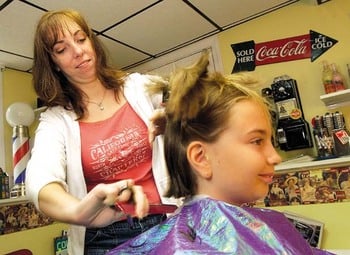 BROOKLINE – Tanina Cadwell has spent the past three years growing her crowning glory – more than 17 inches of straight, wheat-colored hair. But the 9-year-old from Hollis didn't bat an eye Saturday as her hairstylist lifted her ponytail off the nape of her neck and chopped it off.
After all, that's what Tanina wanted. And she's done this before.
As Tanina sat to have her new short haircut into shape, her mother, Heidi Cadwell, shared the motive behind the drastic haircuts that have turned into an "every-three-year event."
"She visits Boston Children's Hospital, and in going to the hospital, she's seen lots of kids with more serious issues than hers," Cadwell said, after explaining that Tanina was born with a congenital diaphragmatic hernia.
"At the same time, one of her teachers was going through cancer treatments and losing her hair," Cadwell said. "Initially, she wanted to give her hair to her teacher (but) she donated it to Locks of Love."
Locks of Love is a nonprofit organization that takes donated hair and turns it into custom-made hairpieces for children younger than 18 who suffer from total hair loss due to medical conditions.
According to the organization's Web site, each hairpiece is made from up to six ponytails and takes four months to manufacture. The Web site also says 80 percent of hair donations come from children.
Donated ponytails have to be at least 10 inches long. Tanina's first donation was 16 inches long, and according to a tape measure at the salon, this time around she donated 17 inches.
"I do it for the people that need hair, because those people need it," Tanina said. "I take very good care of it, and hopefully they will, too. I think it's pretty special."
She said she's even convinced one of her friends to donate.
The owner of Hair by Monica, where Tanina had her hair cut, said she gets the request quite a bit. Monica Holbrook said people come from as far as Boston to get their hair lopped off for Locks of Love.
Holbrook said she became involved with the organization 3½ years ago, and has provided about 1,000 haircuts free for the organization during that time.
Holbrook said she had 30 ponytails out back in a box, packed in plastic bags and ready to be shipped.
As Tanina got ready to go home, she wondered aloud whether her friends and teachers would recognize her with short hair.
But having shorter hair means the future fourth-grader won't need to have it braided before going horseback riding, and when she goes swimming, her hair won't take so long to dry.
It also means another little girl somewhere will get to have her own crowning glory.