Holiday treat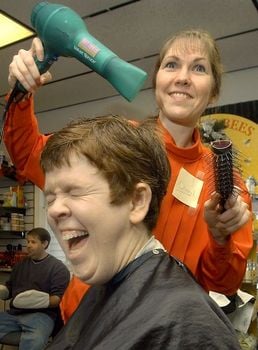 HUDSON – Customers of a local salon said they felt as if they were being treated like movie stars Wednesday.
The atmosphere at the salon was festive and upbeat. Staff members ran about the salon fluffing hair, applying makeup and softening cuticles for their clients' upcoming big night.
Some clients were singing along to Christmas tunes as they showed off the new looks that they received from the stylists.
The Shining Image Full Service Salon and Day Spa provided a "day of beauty" for 17 members of People Learning Useful Skills Co., a nonprofit agency in Nashua that offers services for adults with developmental disabilities and acquired brain disorders.
Adding to the excitement, the men and women of PLUS were getting ready for their annual Christmas party Wednesday night at the Elks Club in Nashua.
The members of PLUS enjoyed services provided by staff at the Lowell Road salon, including haircuts and styling, manicures, paraffin hand treatments, facial waxings, glamour makeup application and hair highlights.
PLUS clients also received snacks, refreshments and a personal-care package containing hair-, nail- and skincare products.
Catrina, 24, a PLUS client, said she was excited about highlighting her hair for the first time. Paula Butler-Jarrel, a cosmetologist at the salon told her, "We're going to make your hair look like you have been in the sun . . . a very natural look."
"I can't believe this . . . it is so exciting and such a Christmas treat," said Missy, another client.
Missy, 38, said while receiving a manicure that she was going to pick out nail polish to match the clothes she was planning on wearing to the Christmas party.
Carol Hallenbeck, the salon's owner, said she was delighted to provide these services to the men and women at PLUS.
Hallenbeck said her daughter, Susanna Hargreaves, an employee at PLUS, mentioned to her that the men and women at her company wanted to get ready for their Christmas party at the Elks, and Hallenbeck offered to provide the services. In addition, Hallenbeck, a registered nurse, says she enjoys helping people.
According to Hallenbeck, the salon specializes in providing for the needs of the physically impaired, pre- and post-plastic surgery patients, and people with trauma, chemotherapy or acne disfigurements.
The salon provides ramps for clients who need them to access the business and also provides privacy rooms.
Katie Daly can be reached at 594-5860 or dalyk@telegraph-nh.com.