Historic theatre to build new performing arts center in Jaffrey
Project receives substantial funding from USDA program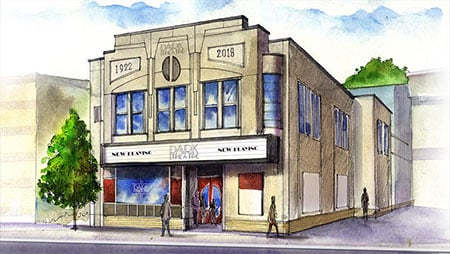 The Park Theatre is set to start construction of a two-auditorium performance center in downtown Jaffrey that will seat 485 attendees.
The historic theatre, which opened in 1922, was the center of community life as a movie and vaudeville house for 54 years until it closed in 1976. In 2006, the theatre was purchased by The Park Theatre Inc., to be rebuilt. Construction is expected to begin in September, with the new Park Theatre scheduled to open in 2018.
The lead funder for the rebuilding of The Park Theatre is the U.S. Department of Agriculture, through its Community Facilities Program. The program, administered by USDA Rural Development, provides financial support to essential community facilities, as part of the agency's mission to increase economic opportunity and quality of life in rural areas.
"This is the moment every supporter of The Park has been waiting for," said Steve Jackson, CEO of The Park Theatre. "It is a monumental achievement for the organization…and a testament to the passion and perseverance of our fans throughout the Monadnock Region and beyond."
"This is the first brick in the foundation to rebuild the Town of Jaffrey," said Jaffrey's Town Manager Jon Frederick.
The project to rebuild and reopen The Park Theatre began in 2005 with a "Sprint to the Finish" campaign to purchase the original property on Main Street. Since then, the project has raised $4.9 million to design, develop and partially fund the new building. Substantial funding for that work and the construction has come from New Hampshire's Community Development Finance Authority through tax credits donated to the Theatre by 36 businesses in Jaffrey and from across the state. More than 32 foundations, 75 businesses and over 2,800 individuals have contributed to the work to rebuild and reopen The Park Theatre.
"We are very excited," noted Caroline Hollister, board chair of The Park Theatre, "but mostly we are profoundly grateful — grateful to everyone who has supported us and encouraged us over the past twelve years. Each and every donor made it possible for the project to be where it is today."
The new Park Theatre was designed by BKA Architects of Boston and Brockton, Massachusetts according to LEED's gold level. Engineering expertise has been provided by TF Moran, Inc. of Bedford and Hutter Construction Company of New Ipswich is the managing contractor for the project. Steve Horton of Construction Consulting Services is the project's construction advisor.
In the meantime, The Park Theatre operates out of the River Street Theatre, a small live entertainment and cinema venue, located adjacent to the construction site.