Historic hotel to rise again – for the fifth time
Construction to begin in spring on 67-room Glen House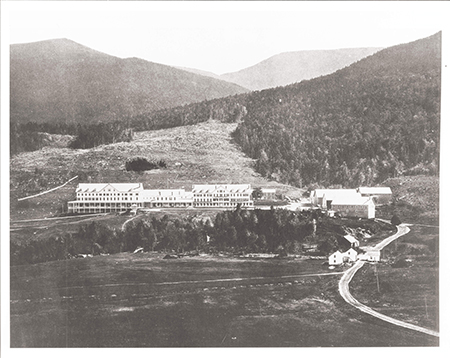 The fifth incarnation of the Glen House Hotel will be a 67-room facility on a site in Pinkham Notch owned by the Mount Washington Summit Road Company.
With construction set to begin in the spring of 2016, and an opening date of spring 2017, the $11 million hotel would be located on an 18.16-acre parcel that most recently had been home to the Great Glen Trails building – a structure that was destroyed in an explosion and fire in 2001.
The goal is to open the hotel by offering "business-level" amenities at first and eventually becoming a full-service facility.
The hotel would also have a pool and restaurant and half of its rooms would have balconies facing Mt. Washington.
The exterior design calls for a simple New England-style hotel with clapboards, painted trim and the signature chimneys, much like the previous four Glen Houses.
The first Glen House opened in 1852. The railroad had paid for the construction of the road through Pinkham Notch to Gorham, and shortly thereafter a bridle path from the Glen to the summit of Mt. Washington was completed.
The first Glen House burned in 1884 but was rebuilt on an even grander scale, including the longest veranda in the world. Unfortunately, the second hotel lasted only eight years before fire struck again.
Two subsequent smaller Glen Houses served guests in winter and summer into the 1960s.