'Hidden' North American Equipment has a big presence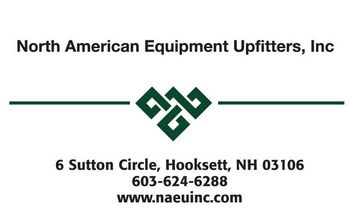 North American Equipment Upfitters, which began operation in 1999 and is located in Auburn, N.H., builds aerial lifts (bucket trucks) and fire apparatus throughout New England and New York.
"People don't even know we exist," said Michael Dunican, president of North American Equipment Upfitters. "We bought 48 acres in a valley in Auburn with no other businesses around. Nobody knows we're here."
Nobody, that is, except a few influential people at corporations like Verizon, Comcast, Northeast Utilities and other companies that have been buying the aerial, or "bucket," trucks that North American Equipment produces at its 30,000-square-foot facility. Whenever you see someone in one of those cherry picker buckets at the end of a hydraulic lift, tending to electrical, telephone or cable lines, chances are that worker is perched above a truck built by North American Equipment Upfitters.
"We build the Verizon fleet for about half of the United States," said Dunican. The company also builds all of the trucks in the Northeast for the Cox and Comcast cable companies. Other customers include Time Warner, TDS Telecom, Lewis Tree and FairPoint Communications.
North American Equipment builds about 500 trucks a year, and sales at the eight-year-old company are growing. Dunican and his wife Janet, the CEO and 100 percent owner of the company, reached $5 million in sales a few years ago.
"We expect to break $10 million this year," Dunican said. That represents a lot of value that the 40 mechanics at North American Equipment add to the vehicles. "We just take a cab and bare frame and add all the equipment and the hydraulic lifts."
The company also sells and equips fire trucks for American LaFrance. "It's the same kind of technology that goes into our bucket trucks, so it all kind of fits," Dunican said.
North American Equipment employs eight people in mobile vehicles throughout New England and New York to provide road service and repairs on the vehicles it sells. The company also has a plant in Syracuse, N.Y., and plans to open another in Maine before the year is out.
When the business was just getting started, the Dunicans considered moving across the Massachusetts border to a location in Methuen. That's when they met Roy Duddy of the state Department of Resources and Economic Development.
"He's become our best business partner," said Dunican. DRED helped the company find its current site in Auburn and matched the company's employees with a training program at New Hampshire Community Technical College.
In an effort to become a leader in the industry, North American Equipment offers readily biodegradable hydraulic oil and greases. This makes them 'Green Compliant.' Dunican said, "We would like to see more people go green to help preserve the environment."
"No one works harder to support business than the state of New Hampshire," said Dunican. And no one is better at building and equipping the aerial and fire trucks than the employees who come to work for North American Equipment Upfitters each day in that little known valley in Auburn.
The NHBR Business Profiles section contains content provided by New Hampshire Business Review advertisers.