HHS secretary praises Benson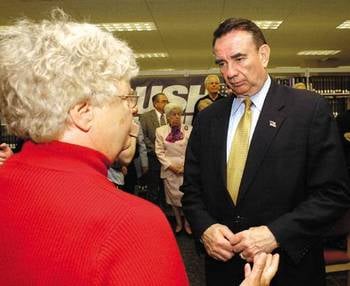 NASHUA – Health and Human Services Secretary Tommy Thompson praised Gov. Craig Benson on Monday for being one of the few chief executives nationally who is willing to change the bargain with the federal government and deliver services differently under Medicaid.
Thompson said he doesn't need congressional approval to sign off on waiver requests like the one Benson will seek to allow New Hampshire to design its own schedule of benefits under Medicaid as long as it is revenue-neutral to the U.S. treasury.
"I want states to start taking the initiative,'' Thompson said during an interview with The Telegraph after a campaign stop on behalf of the Bush-Cheney ticket on campus of the New Hampshire Community Technical College in Nashua.
"I'm giving them a free hand, but no one is willing except Governor Benson . . . and I applaud him.''
Critics charge Benson's goal is to reduce benefits for citizens so he can cope with a $100 million-a-year shortfall in 2006-07 as the Bush administration clamps down on states using Medicaid reimbursement schemes to generate additional revenue.
Thompson stressed this would not lead to turning any state Medicaid program into a block grant, giving a set amount of federal revenue year after year regardless of the growth in families seeking these services.
With 51 percent of its seniors in nursing homes, Thompson said New Hampshire needs to encourage less expensive and more appropriate alternatives, and the federal government is open to offering incentives in that regard.
"I have given more waivers than all previous secretaries combined just to give people the opportunity to try things differently,'' said Thompson, who as governor of Wisconsin led the movement of states seeking waivers to change welfare programs.
At the campaign stop, Thompson promoted the prescription drug benefit for seniors on Medicare and urged citizens with questions to call 1-800-Medicare or sample the program online at www.medicare.gov.
"This is a good law, and it's getting better all the time. It is going to help a lot of seniors all over America,'' he said.
Thompson criticized Democratic presidential nominee-to-be John Kerry for missing the final vote, one of only two senators to do so.
Kerry has belittled the benefit the plan offers and charged Bush with letting the pharmaceutical industry block attempts to have Medicare negotiate to obtain lower drug prices for seniors.
"Seniors should no longer have to choose between putting food on their table and purchasing their medication," said Kathleen Strand, press secretary for the New Hampshire Democratic Party. "Tommy Thompson shouldn't come back to New Hampshire without a plan to decrease the cost of prescription drugs.''
Thompson said he remains opposed to letting consumers re-import drugs from Canada and is awaiting a study later this fall on what it would take to give the U.S. Food and Drug Administration assurance the drugs purchased were safe.
"The position right now is, basically, it is not safe,'' Thompson said.
Benson has defied federal law by setting up a Web site endorsing as safe drugs purchased through two different Internet pharmacies in Canada.
He has urged Bush in writing to reconsider his opposition to re-importation, and U.S. Sen. Judd Gregg has authored legislation that would make it legal.
Thompson said the state Web sites should give consumers some cause for concern.
"All the call lines on the states say, 'We are not liable for anything (that) goes wrong,' '' Thompson said. "Doesn't that say to you the states are not standing behind it? Because they are not.''