Health Innovator Award: Northeast Rehabilitation Hospital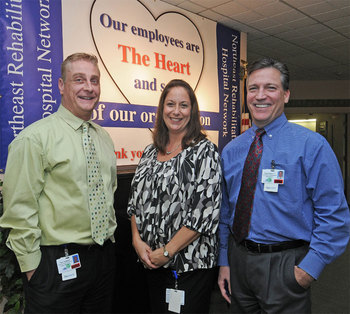 For taking the initiative to begin implementing a workplace wellness program to help employees live healthier lives, Northeast Rehabilitation Hospital has been recognized by Harvard Pilgrim Health Care of New England and NHBR as the latest recipient of the Health Innovator Award. Northeast Rehab, with a flagship location in Salem, N.H. as well as a second hospital in Nashua and over 20 inpatient and outpatient locations across New Hampshire and Massachusetts, offers people the ability to receive personalized rehabilitation care with the support of an entire network of rehabilitation services.
Q. Northeast Rehab is still in the initial stages of implementing employee wellness programs in the workplace. What approach is your organization taking when it comes to formulating and implementing these programs?
A. We appointed one of our HR team members as our Wellness Point Person. Then our HR team met with Harvard Pilgrim to develop a wellness map that would plan our program throughout the remainder of the year. Our first task was to send out a Health Risk Assessment Questionnaire to our employee base. The purpose was two-fold: we wanted to give our employees a tool that would help them better assess and understand their potential health risks and current health status, as well as provide us with a baseline to establish future wellness programming.
Q. What steps have you taken so far in beginning to implement these types of programs, and what initial successes and positive outcomes or feedback have you seen? How will you build on this momentum moving forward?
A. We had great success with our employee participation in our HRA Questionnaire. Participation was 99.5 percent. The next step was having Harvard Pilgrim come in to do biometric screenings so our employees could accurately relay the results on the questionnaire. As a health care network, our employees enthusiastically participated in providing accurate responses so we could develop wellness-based programs that reflected upon our results. Additionally, as a health system, we wanted to have the chance to better manage how we control our costs as a system. We collectively realize that taking fiscal responsibility for our health care costs is a system-wide responsibility.
Q. What kinds of ideas do you have in the works for wellness-centered programs or offerings that you plan to make available to your workforce in the near future?
A. Walking programs, weight loss and management contests, smoking cessation programs and education, stress management, "Portion Distortion" (educating our staff on portion control), healthy eating/heart-healthy/300-calorie meals, and educating people on sleeping well.
Q. As you continue building these wellness programs, what are your hopes for the future and what is your strategy to get there?
A. Our hope is that we can take the information we obtained in the HRA and utilize that to help us develop wellness initiatives that give us collective responsibility as a system moving forward. We want to take ownership of the cost of our benefits by helping to educate our employee population how to better manage their own health and to utilize tools we as a system can help provide.