Health Innovator Award: Green Mountain Communications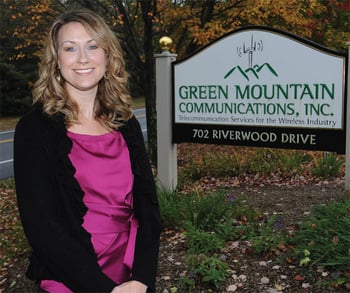 For involving employees in the development of health and wellness-centered programs in the workplace, Green Mountain Communications has been recognized by Harvard Pilgrim Health Care of New England and NHBR as the latest recipient of the Health Innovator Award. Green Mountain Communications, a premier wireless solutions provider based in Pembroke, provides customers with top-notch services for their wireless solutions and has completed projects for many industries, including health care, education, government, wireless, hospitality, construction, petrochemical, property management, utilities and transportation.
Q. What makes Green Mountain Communications stand out amongst local companies and organizations in terms of offering the best health and wellness programs to employees?
A. An important part of health and wellness programs is gearing them towards employees' interests. We believe one of the things that makes us stand out from other companies is that we seek the employees' feedback on the available programs offered through Harvard Pilgrim. For example, we provided a survey to our employees to find out what kind of training programs they would find beneficial to them in managing their health and wellness. Based upon the feedback we received, we put together a program that addresses key areas of interest for our employees.
Q. What are some of the employee wellness programs that you offer? How were these ideas born?
A. The employee wellness programs that we offer include specific programs that our employees have shared with us that they would like to participate in. For example, we work with Harvard Pilgrim to host several lunch-and-learn seminars where we cover topics like stress management, fitness and smoking cessation, among other things. We have provided chair massages and plan to offer that benefit several more times over the coming months. We will be having a wellness fair this year and will offer things like blood pressure screening, hearing and vision screening, and flu shots. The company has had an Employee Assistance Program (EAP) in place for several years. This program provides another resource for our employees and their families to use in areas ranging from employee-related issues, health and wellness, to work/life balance.
Q. What positive changes have you seen in your workforce and overall work environment as a result of these wellness programs in your workplace?
A. The positive changes that we have seen include a less-stressed employee and a positive work environment for the employees and coworkers, as well as in their personal life. Many of our employees communicate to their supervisor and/or to Human Resources how helpful it has been in their personal and work life. We have also received excited feedback from our employees on upcoming topics we will be discussing in lunch-and-learn settings. We believe these health and wellness programs will have a positive impact on the employees making healthy lifestyle changes such as exercising, eating healthier, quitting smoking, now and into their future.
Q. If another organization asked your advice on how to get an employee wellness program off the ground – and why it would be worthwhile to do so – what would you say?
A. We would recommend that they work with their health plan to find out what programs are available that can be incorporated into the company. The next step is to involve employees to find out what are some of the things that are really important to them, through conducting a survey or doing a roundtable meeting. The company may not be able to offer everything employees are looking for; however, offering a few key areas would be beneficial. We believe it's worthwhile because not only does it help with the health of your employees,it also sends a message to the employees that the company cares about their wellbeing. In addition, healthier employees tend to be more productive and have less illness, which can lead to lower health care costs.