Headscarf Day changes stereotypes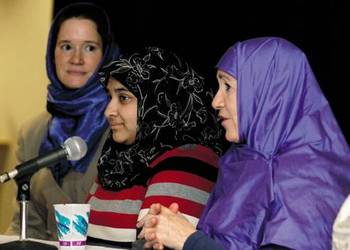 MANCHESTER – Mary Schwarzer-Hampton dressed for work Friday in a long floral, printed skirt, a tailored tan jacket, and a blue headscarf similar to the traditional hajab Muslim women wear.
During her lunch hour, Schwarzer-Hampton, still covered in the headscarf, walked up and down Main Street, stopping at a pharmacy to buy make-up and at a sandwich shop to buy lunch.
"Most people would not look me in the eye," said the 5-foot-10-inch attorney. She was the organizer of Headscarf Day, an event held in Manchester and Concord on Friday to celebrate diversity and discourage negative stereotyping of Muslim- and Arab-Americans.
The daylong observance, which was modeled on similar ones by students at the University of Tennessee and the University of California, Los Angeles, was sponsored by a coalition of state organizations named JADE (Justice and Dignity for Everyone), created after Sept. 11, 2001. It ended in Walker Auditorium of Robert Frost Hall at Southern New Hampshire University, where about 25 people gathered to reflect on the experience and share their thoughts.
Schwarzer-Hampton said she was riding an elevator in the Legislative Office Building in Concord very big," as if it was her stature rather than her headscarf that caught his attention.
Claire Ebel, executive director of the New Hampshire Civil Liberties Union, and a participant in the Headscarf Day, also spoke in Walker Auditorium.
"People treated me differently," she reflected. "The people who know me, asked me why I had the headscarf . . . It generated interesting conversation."
Ebel spoke of the First Amendment, recalled the nation's founders' search for religious freedom, and noted a compelling irony: "They (America's founders) were barely off the boat when they began to discriminate."
She said that after the September 11 terrorist attacks, Americans "looked on others who were different and were afraid."
In a prepared statement released before the program, Schwarzer-Hampton said a recent national poll showed that one in four Americans holds a negative stereotype about Muslims – presumably as a result of the Sept. 11 terrorist attacks.
But participants focused on the positive.
"If we have a little patience with each other, we'll come out a stronger country," said Ebel. "We'll have more respect for other religions, other cultures."
During the program in Walker Auditorium, Waqaron Rashid, a Salem High School student who wears her headscarf to school every day, read a poem, "I am a Muslim Woman," by Jenn Zaghloul.
"The choice I make is free. I don't envy other women. I'm not confused," Rashid recited.
Participants expressed similar sentiments during a coffee hour before the formal presentation.
"We're taught if you wear it to work, they see you as a person, not as a woman," said Lutfun Hassan of the Islamic Society of Greater Manchester, suggesting that a headscarf allows a woman to be judged on her merits rather than her looks.
Eleanor Dunfey, ethics professor at Southern New Hampshire University, said students in a world religion class she taught were surprised to learn that five Muslim women in the class were not unanimous in their views about their religion – a challenge to the stereotypes held by classmates.
"We learned respect for diversity," said the professor.
Respect for diversity was a recurring theme and the subject of conversation among the women who dressed in headscarves Friday as well as the men in their lives – spouses, friends, and children who attended the program to show support.
"The point is not about the headscarf, per se," said Nabil Migalli, chairman of the Arab-American Forum in Manchester. "The issue is to appreciate diversity."