Hazelton wins Construction Industry Ethics Award
For the 'individual … who best demonstrates a commitment to upholding the highest ethical standards in construction'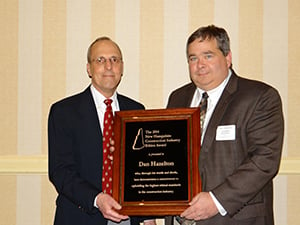 Dan Hazelton, New England general manager for Anderson Equipment Company and former longtime president of R.C. Hazelton Co., has been named the recipient of the 18th annual New Hampshire Construction Industry Ethics Award.
The award honors the "individual, business or organization that, through its words and deeds, best demonstrates a commitment to upholding the highest ethical standards in construction."
Hazelton accepted the award April 3 at the NH Good Roads Association's annual meeting.
Hazelton began his career in 1981 when he joined R.C. Hazelton, a Manchester equipment dealership founded by his grandfather, Robert, in 1931, eventually replacing his father, Richard, as company president in 1988, a position he held until 2009, when the company was sold to Anderson Equipment. Anderson, established in 1935, is headquartered in Pittsburgh, Pa., and has 21 branch offices in six states.
In addition to a handsome plaque, the award carries with it a $1,000 donation to the recipient's charity of choice. Hazelton has requested that the donation go to the Mark E. Bates Memorial Scholarship Fund at Plymouth State University, which provides significant tuition assistance for PSU students from New Hampshire who are seeking a bachelor's degree in physical education or business.
The late Mark Bates of Weaver Brothers Construction was a past recipient of the award, which was established and is underwritten by David W. Wood, a nationally recognized writer, publisher and marketing consultant.