Hassan among 28 governors urging support for Ex-Im Bank
Joint letter calls for 'long-term reauthorization'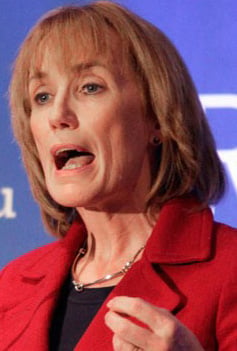 With the U.S. Export-Import Bank's charter set to expire in almost two months, Gov. Maggie Hassan has joined 27 governors in sending a letter to Congress asking for reauthorization.
The letter is addressed to House Speaker John Boehner, House Minority Leader Nancy Pelosi, Senate Majority Leader Mitch McConnell and Senate Minority Leader Harry Reid.
"As governors of states whose economies and workforces depend on exports, we strong urge you to support legislation that provides for the long-term reauthorization of the U.S. Export-Import Bank," begins the letter.
The letter stresses the importance of the entity that assumes credit and risks private sector lenders "are unable or unwilling to accept." Without the Ex-Im Bank, U.S. firms would lose sales to overseas competitors, say the governors.
A similar letter was sent last July, when the Ex-Im Bank's charter was set to expire Sept. 30. Congress extended reauthorization until June 30.
Now the 28 governors are asking for Congress for a "long-term, multi-year reauthorization."
In federal fiscal year 2014, the Ex-Im Bank supplied more than $20 billion in financing to support $27 billion in exports, the letter says. It goes on to point out the Ex-Im Bank supports over 160,000 jobs, primarily small businesses as "nearly 90 percent" of the Ex-Im Bank's transactions assisted small businesses.
Recent data from the U.S. Department of Commerce shows New Hampshire exports supported over 20,000 jobs in 2014. New Hampshire exports raked in $4.4 billion last year.
The governors call the Ex-Im Bank "financially self-sustaining," returning $675 million to the U.S. Treasury in fiscal year 2014.
"Failure to act will place American industries at a significant disadvantage in the global marketplace and harm businesses in our states," the letter pleads.
All six New England governors signed the letter.