Harnessing the power of philanthropy
It can be a way to bring families together for a common moral purpose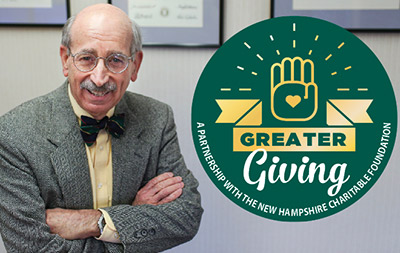 Drew Landry grew up in modest neighborhoods around Boston. But he discovered one place where the wonders of the world were accessible to all: a Carnegie Library, built with funds from the businessman who gave millions away for charitable purposes. Landry understood, from a very young age, the power of philanthropy to change lives.
"We had a children's librarian who had the ability to light the spark in every child of intellectual curiosity and the joy of knowledge," he recalled. "How many kids in that neighborhood benefitted from that? I certainly did."
Landry never stopped reading — including about the history and impact of philanthropy in the United States.
When the estate tax charitable deduction was enacted in 1917, Landry said, the country benefited enormously.
"What did it produce?" he asks. "The Ford Foundation, the Carnegie Foundation, the Mellon Foundation … It's just extraordinary, if you think about each one of them being agents of social change. Ford, Carnegie — all of these other foundations have just had extraordinary impact in taking up society's hardest issues of the day and addressing them."
Landry is an accountant and tax principal with John G. Burk and Associates in Keene. One of his avocations is board and volunteer service with New Hampshire's nonprofits — from the Mayhew Program to the United Way, Mount Washington Observatory, Historic Harrisville, Monadnock Conservancy and the Monadnock Region board of the New Hampshire Charitable Foundation.
His vocation is helping people to manage — and find significance in — their assets. One way he does that is by helping them create charitable legacies.
"Tom Rogerson [whose family founded the Boston Foundation] always talked about 'moving from success to significance,'" Landry said. For many, philanthropy provides that significance.
He said he always raises the topic of charitable giving with his clients.
He has this counsel for fellow advisors: "I would urge them to bring charitable giving into the conversation. If you have any tact or any diplomacy, you can raise this question early on and decide to move forward or away from it. And, in almost all cases, clients thank me for bringing it up, and the thanks are genuine and sincere."
Giving, Landry said, can bring families together with a shared purpose.
"There are so many things that happen that cause us to be cast to the wind," he said. "So I look for things that might bind families together after the death of a parent or grandparent." Charitable giving can be that glue.
Donor-advised funds, he said, are one such giving vehicle. One generation can create and advise the fund — and name members of succeeding generations to advise and carry it on.
"You can be the fund advisor during your lifetime and have it run by another generation or even two generations after your death," Landry said, "This is a way to bind your children together, or even your grandchildren, because there is work to be done with a common purpose with the moral imprint of the generation that is gone."
You might say he learned that from his mother, Marie. Her estate was modest, but she wanted charity to be part of it.
"My mother had a very strong affinity for the Mayhew Program because it was a program that dealt with troubled boys, and she had two of them — my brother and I were beneficiaries of a similar program," Landry said.
"So what she did was wise: She said 'I could make a bequest to the Mayhew Program, and that would be my gift and it might mean something to the family — but probably not much.'"
Instead, she asked Drew, after her death, to read a letter to the family asking them each to give a portion of their inheritance to Mayhew.
Landry read Marie's letter to three generations. In it, she asked that everyone give up 10 percent of their inheritance to Mayhew. They all did, and the gesture became a gift from the entire family.
"It was a great thing to do," he said, "and, in its own way, had greater wisdom than a line in a will."
Landry understands the impact of philanthropy — for the people and communities that benefit, and for the people who give.
And not only does he still go to his local library, he also raises money for it.
The NH Charitable Foundation works with wealth managers and financial advisors, attorneys and accountants to craft customized, flexible giving strategies for their clients to help them fulfill their philanthropic goals while maximizing tax benefits and reducing administrative burdens. For more information, contact Richard Peck, Foundation vice president of development and philanthropy services, at 800-464-6641, ext. 265, or Richard.Peck@nhcf.org.