Harley dealership, retail store sell for $7.2 million
Laconia Harley, White Mountain H-D store acquired by real estate fund in sale-leaseback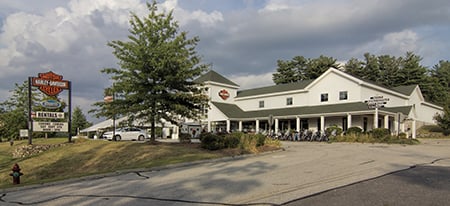 Laconia Harley-Davidson, a major Harley dealership in Meredith, and its sister Harley-Davidson retail store in North Conway have been sold to a private investor for $7.2 million.
The buyer is a publicly traded real estate fund, which closed on the two-property transaction on March 30, according to Peter Block and William Fausone of Colliers International|Chicago and David Choate of Colliers|New Hampshire, who handled the deal.
The transaction closed within three months, from start to finish, they said.
Under the deal, there will be no change in operations. The Chicago-based owners Steve and Anne Deli – who have owned the properties since 2008 – have signed a long-term sale leaseback for the property.
Laconia Harley, located at 239 Daniel Webster Highway in Meredith, is a 42,425-square-foot facility. The Harley Davidson store. White Mountain H-D, is located at 1275 White Mountain Highway in North Conway.