Hanover collective helps contemporary music bloom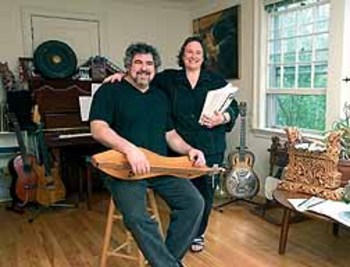 How's this for a business model?
"We don't really care whether something sells one copy or a thousand copies. It's irrelevant to us, and not just in a philosophical way — we don't make any money on anything anyway, so it doesn't matter how many we sell."
And that's just the way Larry Polansky likes it. Polansky is co-founder of Frog Peak Music, along with his wife Jody Diamond. It's a business with a mission — a mission that has nothing to do with profits.
Frog Peak is an artists' collective. It sells recordings, musical scores, books and other materials related to experimental music. You won't hear this stuff on America's Top 40, or see it in the racks at Wal-Mart; Frog Peak is a home for music that might otherwise be homeless.
If you have a passing acquaintance with music, you might recognize some of the names on its roster: Lou Harrison, a composer who combined Western and Eastern music; Anthony Braxton, a master of experimental jazz; James Tenney, a leading figure in the musical avant-garde.
Most of the artists are obscure, and are likely to stay that way. But Frog Peak keeps their music alive and available.
Unlike most publishers and record companies, Frog Peak lets the artists keep control and ownership of their work. So if Diamond and Polansky don't own anything, don't care if they sell anything and devote themselves to decidedly unpopular music, how do they make ends meet?
The short answer: however they can. They share in royalty payments for performances of published work. Frog Peak also accepts donations. As its Web site says, "The financial situation is always dire. On the other hand, it's been more or less equally dire for 20 years, so at least it's not worse!"
It's designed to be a shoestring operation. They don't own the music, so they don't have to worry about contracts. They don't care about sales, so they don't do any publicity or advertising. Aside from part of Diamond and Polansky's time, the entire staff is part-time office manager Paul Schick, who himself is involved in modern music. He's written librettos for several operas — including a story set in Vietnam and the life of alternative jazz legend Sun Ra.
For Diamond and Polansky, Frog Peak is one link in an ongoing chain. For centuries, there are examples of composers who became publishers — from the early American composer William Billings to the 20th century master Henry Cowell.
"We don't own anything, and we have no originals. So in a way, we're not responsible for the work of the composers. It's less like a home than a rental. When we're gone, somebody else will take over," says Polansky.
More like a calling
As for keeping their household together, Diamond and Polansky have other sources of income. Polansky is a composer, performer and associate professor of music at Dartmouth College. Diamond is a composer, performer, teacher and lecturer.
As you can tell, their lives are almost completely devoted to music. This goes all the way back to when they first met.
"We taught for almost a year at the same school without meeting — Mills College in Oakland, Calif.," says Diamond. "Then in 1982, there was a music festival in Santa Cruz, and the composer in residence was John Cage. It was John's 70th birthday, and Lou Harrison had a birthday party in Lou's backyard. So Larry and I went to that, met each other, said 'Hello, I teach at Mills College.' 'Oh, I teach at Mills College too!' And we sat down on this stone bench and said, 'We could do this project, we could do that together.'"
One of those projects turned out to be Frog Peak Music, which they created not long after that meeting.
Frog Peak hasn't completely taken over their lives; they leave time in their schedules for their own musical projects. But it has taken over their garage, which has become their warehouse – a reality that sometimes hits home in the winter, says Polansky: "All our neighbors have happily put their cars in their garages, and we're out there shoveling two feet of snow off our cars."
But he doesn't really mind. His garage is full of material he cares about. And at least he's getting a little exercise. And when you get right down to it, Frog Peak isn't so much a business as a calling.
"The people who make experimental music have a real commitment," says Diamond. "They don't really have a choice to do something else — this is what they have to do." She could easily say the same thing about running Frog Peak.
Most people, however, don't feel this way. They find contemporary music difficult, confusing and unrewarding. Should people give it a chance?
"If we stay with it and hear it a lot of times, we start to understand it," says Diamond. "That's how pop radio works, too. You hear a song 40 times, and then you feel like it's a part of you. New music is that way — if you give it that kind of time and space in your life, it can feel very intimate and normal."
They don't expect most people to make that kind of effort. "I'm not sure that everyone needs to," says Polansky. "I'm more certain that the world needs experimental art and thought of all forms. Because important deep thinking on any topic is essential to us as humans. I'm congenitally terrified of a world without poetry. And I envision that happening unless it's caretaken by the people who love things like poetry and film and music."
John Walters is host of "The Front Porch" on New Hampshire Public Radio.