Hannah Grimes Center to grow again
Keene business assistance facility launches capital campaign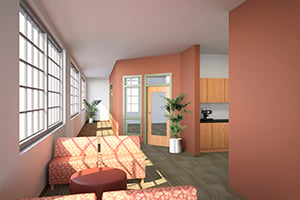 The Hannah Grimes Center, a focal point for entrepreneurship in the Monadnock Region, has announced plans to renovate the second floor of its 25 Roxbury St. home in downtown Keene, launching an $800,000 capital campaign to fund needed improvements.
The center houses a business incubator program, and provides a range of workshops for participants to hone their business skills.
"We help startups establish themselves and existing businesses achieve new levels of growth," said Mary Ann Kristiansen, executive director of the center. "Once again, we find ourselves at capacity and needing to expand."
"Business incubation is a process that greatly improves the odds of successful development for startups and growing companies by providing entrepreneurs with a range of resources and services," said Kristiansen. "The Hannah Grimes Business Incubator Program brings together affordable office space, high-speed Internet, a multimedia conference room and networked color copier with peer-driven learning, networking opportunities, coaching, and technical assistance. We provide a space that fosters innovation and focus on your business, and emphasize business skills education and accountability for planning and growing your business."
According to Kristiansen, businesses participating in Hannah Grimes' business incubator program grew their revenue by 29 percent in 2011, by 44 percent in 2012 and by 297 percent last year.
In 2013, business incubator tenants employed 13 people and generated $1.9 million in revenues.
Since 2008 the number of businesses in the region seeking business support from Hannah Grimes has increased tenfold, she said.
Hannah Grimes purchased the 25 Roxbury Street building in 2007. Renovation of the lower floor, completed in 2011, added 18 new small business/incubator offices.
"This space is already near capacity," noted Kristiansen. "Renovating the second floor, where the business incubator program got its start, will maximize our ability to serve a greater number of startups, growing businesses, and entrepreneurs."
Kristiansen said the renovation includes:
• Eight new second-floor offices for startups, small businesses and nonprofit organizations
• A large meeting/conference space for up to 70 people
• Improvements that will connect the main floor with the second floor
• Exterior updates on the Roxbury Street side of the building
• Improved handicapped access
• Increased energy efficiency
"We are excited to be able to expand and have commitments for well over $500,000," said Kristiansen, who added that the center is now raising funds for the balance.
Construction is slated to begin Sept. 15, with a completion date in January 2015.