Hampton-based manufacturer secures pricing agreement with DOD
Extends patient identification bands to all branches of U.S. military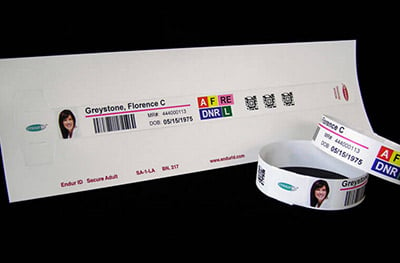 Endur ID, a Hampton-based manufacturer of plastic bar coded hospital patient ID wrist bands used to store electronic medical records, has reached a distribution and pricing agreement with the Department of Defense to extend its products to active service members of the U.S. military.
According to industry publication HealthCare Purchasing, 9.5 percent of deaths each year are caused by medical errors. The bands, printed in color, can supply account numbers with bar codes, color coded alerts and warning for things like allergies or falls, as well as a photo of the patient. Founded in 2003, Endur ID has long been a supplier to the U.S. Department of Veterans Affairs and is used in over 100 VA medical centers.
Endur ID's wristbands can be adapted into most current patient identification systems without significant additional investment, says the company. The only requirement is the ability to format patient information and print to a desktop laser printer. The wristband's material and construction is able to withstand the rigors of a hospital environment, including showers, alcohol wipes, and other agents directly from the printer without further protection, according to the company.
All of Endur ID wristbands are designed specifically to meet and exceed all current Joint Committee on Accreditation of Healthcare Organizations recommendations.
In addition to the health care field, Endur ID provides ID wristbands for corrections and behavioral health facilities.
Next month, the manufacturer will exhibit at the 36th Annual American Jail Association Conference & Expo in Orlando. Endur ID will present its full line of inmate identification solutions, including Secur Max Durable wristbands, Secur Loc clasps, IDMX Identification software and its newly-released Secur Max Tracker inmate tracking software. The scanner-based technology allows for the tracking of in/out recordings, attendance and evacuation control.