Hampshire First Bank helps local small businesses grow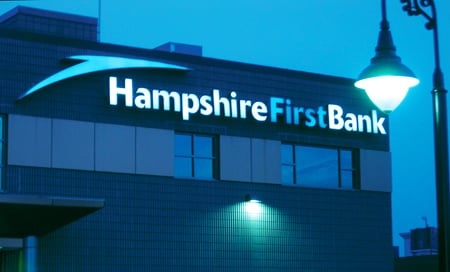 Hampshire First Bank is a responsive, locally focused community bank that is committed to the success of our customers and communities. Since becoming a division of NBT Bank in 2012, Hampshire First Bank has been able to provide customers access to enhanced lending capabilities in addition to a wide range of business and personal financial services.
Businesses interested in financing options to start up or expand their operations can benefit from the U.S. Small Business Administration's (SBA) designation of NBT Bank as an SBA Preferred Lender across its entire five-state footprint. Hampshire First can provide this valuable financing tool to businesses in New Hampshire.
Under this program, the Bank has been granted the authority to approve loans that result in faster service to local small business owners in need of capital. The Bank can process, close, service, and liquidate most SBA guaranteed loans, and make credit decisions, without prior SBA review.
Hampshire First Bank also works closely with other statewide resources such as Granite State Development Corporation and Capital Region Development Council to provide financing solutions such as SBA 504 loans and direct lending programs.
"Hampshire First Bank knows how vital small businesses are to the economy of New Hampshire," said Jay Dinkel, Senior Banking Relationship Manager. "The SBA loan programs are some of the most important resources we have to help small businesses get started and grow. Now, our ability to offer everything from equipment loans, lines of credit and financing for small businesses and much larger projects is enhanced."
Hampshire First Bank is a community bank providing personal banking and business services from five locations in southern New Hampshire. A division of Norwich, N.Y.-based NBT Bank, Hampshire First Bank is part of a larger network with 161 locations including Hampshire First Bank locations in New Hampshire; NBT Bank locations in New York, Vermont and Massachusetts; and Pennstar Bank locations in Pennsylvania.
Contact any Hampshire First Bank office for more information on financing options for your business.
This business profile is part of a special advertising section.