Growing Your Business: New Hampshire's clean, green venture scene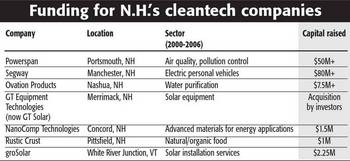 New Hampshire has long benefited from its proximity to Boston in terms of attracting venture capital. In fact, VC investing in New Hampshire ranks near the top third (in dollars and deals done) nationally among states receiving such financing.
While angel investors fill in by providing smaller financings in nontraditional sectors, such as consumer products, and early-stage deals, in general New Hampshire's investment scene has been dominated by traditional VC investors investing in traditional VC sectors, including life sciences and information technology.
Spurred by rising energy prices and consumer demand for reduced toxicity in water, air and food, a new sector has attracted the interest of both local/regional investors and national investors — "cleantech," a super category of market segments that has seen enormous investment by venture investors in recent years.
This category includes:
• Energy — generation (wind, solar, hydro, biofuels, geothermal), energy storage (fuel cells, advanced batteries), energy infrastructure (management, transmission) and energy efficiency (lighting, sensors, automation, conservation)
• Transportation/logistics — propulsion, advanced structures, advanced infrastructure and vehicles
• Water purification — treatment (metering, infrastructure, conservation)
• Air and environmental quality — emissions control, emissions monitoring and trading and credits
• Advanced materials — nanotech, biomass, chemical and hybrid
• Manufacturing/industrial — advanced packaging, monitoring and control, smart production
• Agriculture and nutrition – natural pesticides, irrigation, food products, land management
• Materials recovery & recycling — Recycling, resource preservation, waste processing
In the first half of 2006, VC investment in the sector was $379 million, a 64 percent lift over the same period in 2005. New Hampshire has benefited from this sector interest, seeing more than $132 million of VC investment (largely driven by two deals) over the past five years.
Investors focused on New Hampshire cleantech fall into two categories. First there are the large national funds targeting high minimum investments ($5 million or more) who are either specifically focused on cleantech or who have a diversified investment interest that includes cleantech. There also are the small funds targeting cleantech and/or New Hampshire.
The aggregation of these segments into a super category is on one hand simply an exercise in taxonomy — categorizing may give the name cleantech more momentum than it deserves. Still, the macro drivers of energy costs, water supplies and consumer interest in reduced toxicity (in air, water, soil, food, etc) rightfully gives this category meaning in a broader context.
What can New Hampshire do to capitalize on this national trend?
New Hampshire, like its northern New England brethren, has cleantech assets within its geography — raw materials for biofuels (agricultural waste) and nationally recognized leaders in natural/organic foods (Stonyfield Farm) and renewable energy (GT Solar). Entrepreneurs and corporate leaders ought to evaluate possibilities to exploit some of the clear growth opportunities that exist in the cleantech market space.
Southern New Hampshire also has benefited from its close proximity to Boston's capital and staffing assets in its ability to attract capital and employees to early stage growth companies. Offering a high quality of life and low taxes, New Hampshire must continue to cultivate business from the south and make this state a welcoming place for new business development.
The state's natural resources, base of strong industrial leadership and sensitivity to preserving the natural environment are all part of New Hampshire's calling card, and with a government interest in renewable energy, New Hampshire might explore the potential to piggyback on Massachusetts' strength in this new category, claiming for itself economic development clusters that fit its natural and business assets.
Michael Porter, a Harvard Business School professor who heads the Institute for Strategy and Competitiveness, recently completed an evaluation for Maine, identifying a handful of developing clusters — including aerospace engines, communications equipment, processed foods, financial services, and medical equipment manufacturing. New Hampshire might consider engaging Porter's group to undertake an analysis of New Hampshire's possibilities with a view to seeing if the state might be in a position to take advantage of the job creation and economic development that will benefit states that are positioned to exploit the markets that comprise cleantech.
As a New Hampshire-focused venture capital fund, we welcome the opportunity to expand our own capital and network support of these sectors in New Hampshire and encourage entrepreneurs with concepts that fit a venture capital investment model to seek us out. If we're not in a position to help, we can certainly direct you to funds and/or resources to help move you along.
Michael Gurau is president of CEI Community Ventures, a venture capital fund based in Portland, Maine. You can reach him at mhg@ceicommunityventures.com.