Group shows there's something to swim for after 40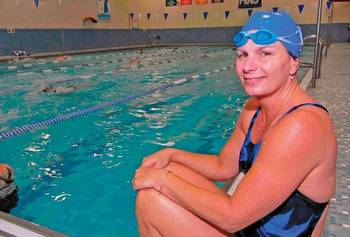 NASHUA – Forty-one-year-old Olympic swimmer Dara Torres isn't the only athlete proving that middle age doesn't mean the body should slow.
Out of view of a global television audience and half a world away from the Olympics in China, a bunch of swimmers beyond the age of 40 demonstrate each morning that time can't stop muscles from moving.
"A lot of people slow down because of family and priorities," Mike Hirst, 47, said Thursday morning as he and several members of the Granite State Penguins swimming team he coaches finished their daily 90-minute routine at the Boys & Girls Club of Greater Nashua.
The pool of Olympic swimmers typically consists of young athletes. But Torres, who could win as many as three medals in China, illustrates that with competition as a top priority, older swimmers can still race stroke-for-stroke with athletes less than half their age, Hirst said.
Another Penguins member, Beth Estel, 52, will travel next weekend to Oregon for the U.S. Masters Swimming Long Course National Championship. It's her first masters; she'll give her best breaststroke and freestyle in five events.
Like Torres, who quit competitive swimming after her fourth Olympics in 2000, Estel took time off. She raced throughout high school, but hung up her swimsuit and goggles for college and beyond.
The inspiration of a motivational speaker in fall 2006 not only pushed her back into the pool, but also into the classroom to pursue a master's degree in business. She swims twice a day and finds time for work and homework.
"It's the personal motivation and the camaraderie," Estel said of swimming.
Indeed, between laps, Penguins and their guests linger in the shallow end to chatter and often tease each other. Breaks are brief, though. They launch back into one of the many group drills aimed to improve both short- and long-distance times.
The Penguins squad is the Nashua area's Masters swim team, part of the larger U.S. Masters Swimming organization for adults age 18 and older.
"Older" means any age, as Phyllis Staples, 74, told a visitor. She has swum since childhood but kicked into a higher gear when joining the masters organization four years ago. Her health has improved since regularly hitting the pool again.
"It firms up, firms down and firms out," Staples said.
She will root for Torres because "there's hope for me."
Karla Black, a 52-year-old swimmer, said rumors float about Torres using performance-enhancing drugs – rumors that the Olympian denies – because some people can't believe it's possible for a 41-year-old to compete at that level.
But Torres proves hard work and determination can push an athlete far, she said.
"You're going to get out of it what you put into it," said Black. "Clearly, she has good genes starting out with. But I'm sure she's mentally more mature and knows what to expect, more than the 16-year-old swimmers. She's got an edge on them mentally, and she's put in the hard work."
Black coaches Bishop Guertin High School and the regional club team Southern N.H. Fins, and has competed in the U.S. and world masters championships.
She had an accomplished high school and college swimming career, but said that back then, women had to clear a lot of hurdles just to compete. That included her high school swim team having to borrow the wrestling team's sweatsuits to travel to a meet, she said.
Even though women have a more even playing field nowadays, Torres' success can advance the sport further and give female athletes a bigger boost, Black said.
"When you give women this sort of opportunity, you're not putting a cap on them," she said.