Group efforts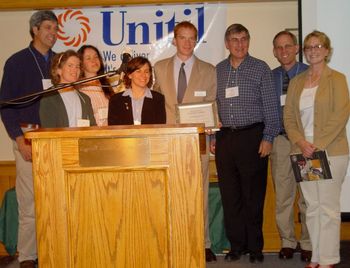 Entrepreneurs from Colebrook, Harrisville, New London, Dover and Portsmouth have been honored for their efforts in helping some of the state's smallest businesses.
They were singled out during a ceremony held in conjunction with MicroCredit-NH's fourth annual MicroEnterprise Day, Oct. 14, at the Capital Center for the Arts in Concord.
"These groups represent the best of what happens when you bring people together," said Rob Riley, director of MicroCredit-NH. "Each of the individuals associated with the award winners this evening have dedicated significant time to improve their businesses, to help their peers and to assist MicroCredit-NH in truly developing best practices in innovation for microbusiness development."
Winners were:
• Harrisville Resource Group, which received the Learning Award for its ongoing efforts to improve the business knowledge of its group members through peer support and the development of a business plan for each business. The group also hosts an additional quarterly meeting to spotlight one member's business and provide in-depth feedback on issues and assist in strategic planning.
• Dream Seekers, a Colebrook area business group, won the Finance Award for its efforts in gaining the needed financial management skills to ensure that loan capital is best leveraged with their business development.
• Raising Granite Business Solutions, a New London area group, received the Marketing Award for developing, hosting and promoting a Web-based workshop series that provided a business service in the community and provided a marketing outlet for each member's business.
• A Manchester area business group, Solutions for Success, won the Collaboration Award for providing peer support and shared business learning with the goal of improving their businesses.
• Portsmouth-based Artefacto, a group composed entirely of artists, won the Recruitment Award for maintaining a full group roster by tapping in to other artist networks that they participate in. By doing so, the group has increased its membership and increased the demand for services by promoting the program.
For more information, contact MicroCredit-NH at 224-2069 or visit microcreditnh.org.