Ground broken on three-building flex complex in Franklin
General Properties' Mercantile Place will feature office, industrial tenants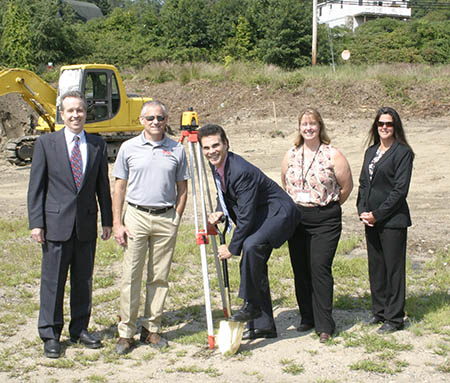 General Properties LLC has broken ground on Mercantile Place, a three-building flex complex in Franklin on the site of a former dilapidated excavation business near the city's downtown.
Located on the Pemigewasset River, the property will incorporate a mix of office and industrial tenants, General Properties said.
A ceremony groundbreaking marking the start of construction was held Sept. 6 and featured remarks from Franklin Mayor Tony Giunta, who called the project "another important step in the growing renaissance of our historic city."
Nobis Group of Concord has provided engineering services for the Mercantile Place and General Properties' construction division will build the complex.
"We are excited to have begun construction of this milestone project," said Todd Schongalla of General Properties.
When finished, the complex will be home to a mix of businesses, including FBG Tank Services, a branch of First Business Group; Sustainable Refining, a formulator of "green" vehicle undercoating products; Poly Lining Systems Inc.; Online Motor Deals LLC; and a vehicle service maintenance center. The complex will be managed by GP Property Management, a division of General Properties.