Ground broken on state's largest solar array
Two-megawatt NH Electric Cooperative project expected to be online at end of 2017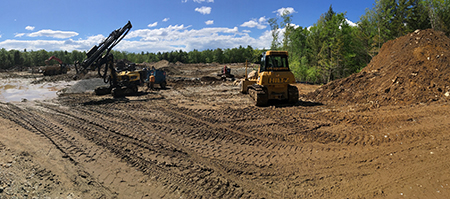 Construction has begun on what will be the largest solar electricity array in the state – NH Electric Cooperative's two-megawatt system in Moultonborough.
The $5 million ground-mounted solar photovoltaic system has approximately 8,000 panels is expected to be online by the end of 2017 and producing approximately 3.5 million kilowatt-hours of electricity per year for the next 25 years or more – enough power for approximately 600 homes, the utility said.
Ameresco Inc. of Framingham, Mass. is building the array. Site work on the 65-acre parcel off Moultonborough Neck Road is being performed by Jeremy Hiltz Excavating Inc. of Ashland. Engineering services are being provided by McCourt Engineering of Henniker.
NHEC CEO Steve Camerino said costs for wholesale generating capacity and transmission have risen dramatically in recent years, and because of that, at current costs, the Moultonborough project's output is expected to save NHEC more than $280,000 per year. After factoring in the cost of construction and the expected savings, the power from the project is expected to immediately have a net cost on par with conventionally produced power imported by NHEC from the regional market, he said.
"Although it will cover a small portion of our members' total electricity needs, one of the biggest benefits of this project is the price stability it offers," said Camerino.
The cost of the solar array is being financed by low-interest New Clean Energy Renewable Bonds, made available by the U.S. Treasury Department for public sector renewable energy projects.