Ground broken on Gateway Park project in Windham
Big mixed-use project a 'home run,' says governor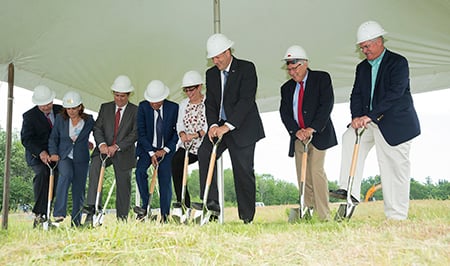 Calling it "an absolute home run," Gov. Chris Sununu led the groundbreaking ceremony earlier this month for the new 32-acre Gateway Park mixed-use mega-development in Windham.
The project, located off Route 111 on Range Road, will feature residential units, Class A office space, medical offices and other health services, restaurants, various consumer services and green space.
Developed by Duck Pond Realty of Salem, Gateway Park sits on the site of the former Applewood Golf Links and Heavy Hitters Driving Range, which was acquired in 2014 for $3 million.
The development team includes Duck Pond Realty majority partner Deepak Sharma, civil engineering firm The Dubay Group of Windham, Bruce Hamilton Architects of New Ipswich, Corbell Development of Concord, Eyecor Construction, Manchester. Hugo Overdeput of Colliers International's Manchester office is marketing the project.