Ground broken for RiverWoods Durham
Nonprofit retirement community to open in late 2019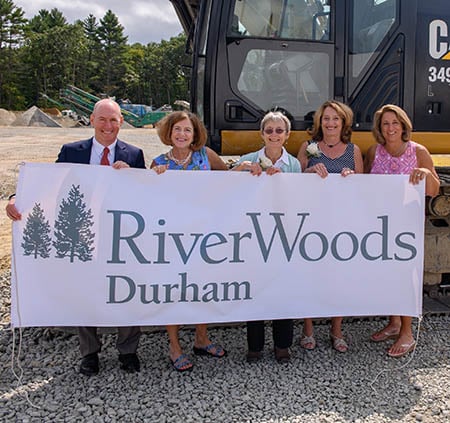 A groundbreaking was held Aug. 21 to mark the start of construction on The RiverWoods Group's new project, RiverWoods Durham, the company's third nonprofit continuing care retirement community.
RiverWoods Durham will feature 150 independent apartments and a 72-bed health center on a 11-acre campus. All of the available units were sold within the first 29 days of being offered, although RiverWoods is accepting wait-list deposits, the company said.
LeCesse Construction of New York is managing the project. Opening is scheduled for late 2019.
Funding is being provided by TD Bank and SunTrust Bank, which are co-lead banks, and participant bank People's United Bank. Ziegler, a privately held investment bank, arranged the $110.48 million financing package.
Among those at the groundbreaking were representatives of RiverWoods Group, investment bank Ziegler, TD Bank, SunTrust Bank and People's United Bank, LeCesse Construction and Greystone developers. Also on hand were Durham Town Manager Todd Selig, members of the Durham Planning Board and RiverWoods Durham depositors.