Grappone Automotive Group goes green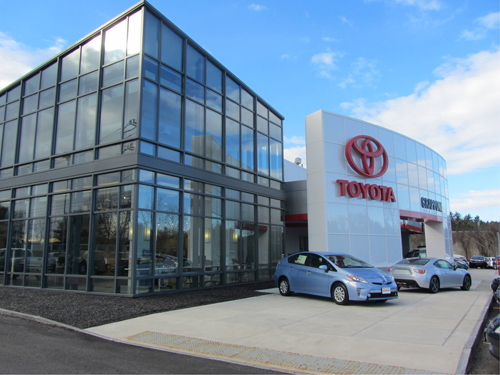 Founded in 1924, Grappone Automotive Group is owned and operated by the family's fourth generation. Its staff of 300 sells and services Ford, Honda, Hyundai, Equus, Mazda, Toyota and Scion vehicles. They also maintain a collision center, weekly wholesale auction, and wholesale parts operation.
Last fall, Grappone Automotive Group's newly remodeled Toyota-Scion dealership was awarded LEED Certification from the U.S. Green Building Council — the first Toyota facility in New England to receive this prestigious certification.
LEED (Leadership in Energy and Environmental Design) provides third-party verification of green, or sustainably built, buildings. To become LEED certified, buildings must meet extremely high standards across six different categories, from environmental quality to innovation and design.
The goal for this 77,000 square-foot renovation was a building that would be both state-of-the-art, and environmentally sustainable. The dealership chose to renovate instead of rebuild, allowing 60 percent of the original structure to be reused, and over 250 tons of construction waste to be recycled and diverted from landfills.
Grappone Toyota now features 32 400-foot-deep geothermal wells that help heat and cool the building, and also greatly reduce the building's natural gas consumption. Energy use was reduced by 36 percent, and water use by 30 percent.
The dealership now includes outside views and natural daylight to nearly every occupied space, 36 water source heat pumps, seven recycling stations, two solar-powered electric vehicle charging stations, 14 bicycle racks, kayak racks, a boat dock on the Turkey River, and shower facilities to encourage exercising during the work day.
For customer convenience the dealership now features an expanded service facility with a service drive, so guests can drive directly into the building to drop off vehicles. Other added benefits include: a spacious waiting area with free Wi-Fi, kids' play area, Internet café with PCs for guest use, café area, expanded showroom, five indoor vehicle delivery bays, and an interactive "green" education wall highlighting the building's features.
"It is a real point of pride for our family and the whole Toyota team that so much care was taken to ensure we were making responsible choices during construction. And it's a really pleasant place to spend time too, so we're thrilled with how the building turned out," Amanda Grappone-Osmer, fourth-generation owner, said.
Tours of this facility are available for school groups, social groups or other businesses looking to include learn about green initiatives. For more information, visit http://www.grappone.com.
This business profile is part of a special advertising section.