Granite State exports plunge 12.2 percent in February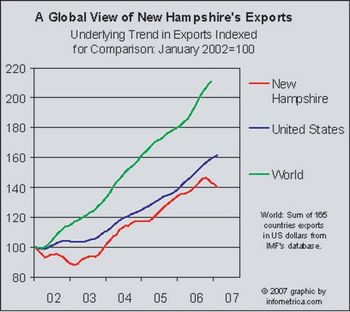 According to the latest annual trade statistics compiled by the World Trade Organization, Germany remained the world's leading exporter of goods in 2006 as German companies sold $1.112 trillion in goods to the rest of the world.
American exporting companies had one of their best years in 2006. National exports jumped 14 percent in 2006 – the best annual export growth in more than a decade – to an all-time high of $1.037 trillion, holding second place in the worldwide trade rankings.
In the latest WTO annual report, however, there are signs that third-place China will outpace the United States this year. Chinese exports surged by 27 percent in 2006, outstripping the growth performance of all major exporting countries. Although for 2006 Chinese exports hit a record high of $969 billion – $68 billion less than American exports – WTO reports that in the second half of 2006 its merchandise exports started to exceed those of the United States.
It is apparent that China at its current pace of export growth will overtake the United States in 2007 as the world's second-biggest exporter. We can also project that in two to three years China will push aside Germany and become the world's leading exporting country.
So how well have New Hampshire's exporters done so far this year?
During the January-February period, exports of goods from New Hampshire, seasonally adjusted, increased by an annual rate of 1.6 percent from the same period of 2006. As a result, New Hampshire ranked 40th in export growth among the 50 states during the first two months of this year.
Exports from New Hampshire companies plunged 12.2 percent in February from January, following an increase of 8.8 percent in the previous month. At their February mark, foreign sales registered $214.3 million, seasonally adjusted, which is $29.7 million less than the volume recorded in January.
Manufactured goods overshadowed shipments abroad, accounting for 86 percent of all state exports. Foreign shipments from New Hampshire's manufacturers decreased in February by 13.4 percent from the previous month to $184.4 million, adjusted for seasonal variation.
On an annual basis, overseas sales from state factories were $1.2 million, or 4.2 percent, higher than in February of last year.
Exports of non-manufactured goods fell 4.1 percent in February to $29.8 million, adjusted for seasonal variation.
For the country as a whole, U.S. exports of goods dropped 2.9 percent in February to $88.4 billion, after rising steadily in the six prior months. The decrease in national exports reflected declines in capital goods, consumer goods and industrial supplies and materials.
What is the outlook for global economic growth in 2007? In its April report on trade and its prospects for 2007, the WTO predicts that "economic fundamentals in the major economies are strong enough to keep global economic growth close to 3 percent," compared with a growth rate of 3.7 percent in 2006.
The WTO also predicts global trade in goods to "slow down to about 6 percent in 2007, or 2 percentage points less than in 2006."
The projections suggest that export orders for New Hampshire companies will continue to come in from foreign buyers but at a slightly slower pace than in 2006.
Evangelos Simos, chief economist of the consulting and research firm Infometrica Inc., is editor for International Affairs in the Journal of Business Forecasting and department chair at the University of New Hampshire's Whittemore School of Business & Economics, University of New Hampshire. He may be reached at eosimos@infometrica.com.