Granite State exports hit an all-time high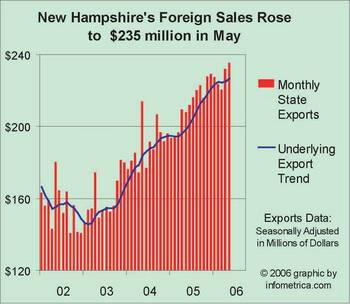 Although globalization, measured by different indicators, increased in the second half of the 20th century, it really has taken off in the past 20 years, driven by worldwide deregulation policies, regional trading blocs and the new role in business activity played by advancements in information and communications, especially the way the Internet has revolutionized the way business is done.
Globalization provides new opportunities for companies as they take advantage of additional markets, which also may be expanding faster than the domestic market. Companies that globalize their business operations become more competitive because their exposure to worldwide competition compels them to make every effort to become efficient so they can take advantage of all of the opportunities open to them.
Several studies have shown that exporting companies enjoy higher and faster-growing productivity, generate more jobs, pay higher wages and grow their overall business bigger than comparable companies that export less or do not sell their products abroad.
A key indicator in measuring globalization is the export-ratio that gauges the percentage of domestically produced output which is destined to foreign buyers.
In the first quarter of 2006, the U.S. export ratio was 7.6 percent. In other words, national exports of goods accounted for 7.6 percent of the nation's output, measured by gross domestic product, which hit an annual mark of $13 trillion in the first quarter.
In New Hampshire the state export ratio hit the 4.7 mark in the first quarter of 2006. This means that 4.7 percent of New Hampshire's gross state product is shipped abroad to foreign buyers.
Has the degree of globalization changed for New Hampshire companies over the last 20 years? In the first quarter of 1987, New Hampshire's export ratio was 3.2. In other words, the degree of exposure of state companies to international markets has increased from 20 years ago by a factor of 1.5.
According to the latest international trade numbers, foreign sales of goods made in New Hampshire rose in May by 1.4 percent to an all-time high, after gaining 5.3 percent in April. New Hampshire's exporters sold overseas $235.4 million in goods in May, adjusted for seasonal variation.
Compared to a year ago, New Hampshire's exporting companies this May surpassed their export performance in May 2005 by $27.3 million, or 13.1 percent.
Overseas shipments from New Hampshire's manufacturers — which accounted for 78 percent of all exports — dropped to $182.7 million, seasonally adjusted, 4.8 percent less than April's level of shipments.
But exports of non-manufactured goods jumped 30.8 percent in May to $52.7 million, adjusted for seasonal variation. This group of foreign sales consists of agricultural goods, mining products and re-exports, which are foreign goods that entered the state as imports and are exported in substantially the same condition as when imported.
At the national level, exports of goods rose by 2.9 percent in May to an all-time high of $84.2 billion, seasonally adjusted. So far this year, national exports of goods grew by an impressive annual rate of 13.3 percent from the same period a year ago.
In the first five months of the year, foreign sales from New Hampshire's companies — seasonally adjusted — increased by an annual rate of 13.8 percent compared with the first five months in 2005, placing it 28th among the 50 states in export growth.
Evangelos Simos, chief economist of the consulting and research firm Infometrica Inc., is editor for International Affairs in the Journal of Business Forecasting, and professor/department chair at the Whittemore School of Business & Economics, University of New Hampshire. Distributed by Infometrica Inc. He may be reached at eosimos@infometrica.com.