Granite Bridge reaches deal with NH Building Trades Council
Manchester, Nashua, Concord chambers endorse gas pipeline project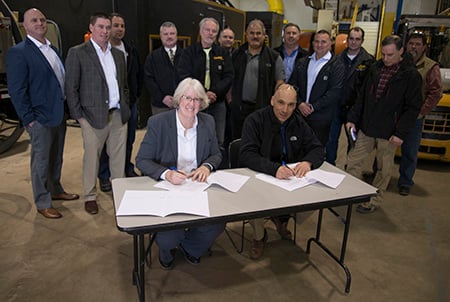 The Granite Bridge natural gas pipeline proposed by Liberty Utilities has won the backing of three key southern New Hampshire chambers of commerce and inked a deal with the NH Building and Construction Trades Council over ensuring that Granite Staters work on the $340 million project.
On March 27, Liberty and the Building Trades Council entered into a Memorandum of Understanding aimed at maximizing the number of New Hampshire workers who would construct the natural gas infrastructure project. The proposed project is expected to create 330 construction jobs.
Granite Bridge would bring natural gas from existing infrastructure located on the Seacoast to central New Hampshire through an underground pipeline. The new pipeline would be located within the NH Department of Transportation's right-of-way along Route 101.
The project would also feature a new liquefied natural gas storage facility, proposed to be sited in an abandoned quarry in Epping.
New Hampshire Building Trades Vice President Dave Pelletier said that "New Hampshire has been falling behind the rest of the country in terms of infrastructure development" and because of "the lack of opportunities for workers in New Hampshire, many are finding work in Massachusetts. Je called Granite Bridge "an opportunity to put more than 300 local workers on the job here in their home state, and to send a signal to other infrastructure developers that New Hampshire is open for business."
Meanwhile, the Greater Nashua, Manchester and Concord chambers of commerce have all endorsed Granite Bridge, saying the project will support economic growth in the region.
"Access to low-cost natural gas service is critical to keeping businesses competitive," said Mike Skelton, president of the Manchester chamber.
Tracy Hatch, president of the Nashua chamber called the project "a great solution for businesses … to keep their heating and industrial costs low, which in turn will drive economic development in our community."
Added Tim Sink, president of the Concord Chamber, "We really need to be able to get critical energy infrastructure built in New Hampshire."