Governor to address state, regional issues at Derry-Londonderry chamber event
Gov. Maggie Hassan will discuss her budget proposal and other initiatives of her administration as part of the Greater Derry-Londonderry Chamber of Commerce's State of the Region event later this month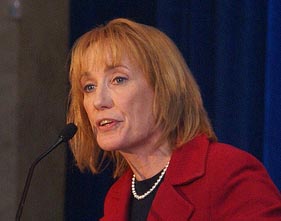 Gov. Maggie Hassan will discuss her budget proposal and other initiatives of her administration as part of the Greater Derry-Londonderry Chamber of Commerce's State of the Region event later this month.
The event – to be held from 7:30 to 9:30 a.m. Friday, April 26, at Promises to Keep in Derry – will also include discussion of regional economic development initiatives, the state's newly expanded research and development tax credit, business incubators and technical support programs as well as developments in higher education in New Hampshire. Moderator of the event will be Jeff Feingold, editor of New Hampshire Business Review.
Premier sponsor of the event is Enterprise Bank, and NHBR is media sponsor.
Cost is $20 per ticket, which includes a full breakfast.
For more information, call 603-432-8205 or email CriSten@gdlChaMBer.org.