Governor signs gas tax hike
$33m more will be raised annually for road, bridge projects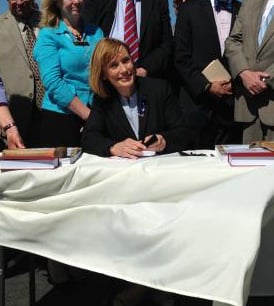 Gov. Maggie Hassan on Tuesday signed Senate Bill 367 into law, paving the way for a 4-cent increase in the state's tax on gas and diesel – a hike that is expected to raise an additional $33 million annually for work on New Hampshire's transportation infrastructure.
"This legislation is an important step toward addressing our transportation needs, keeping New Hampshire's economy moving forward by advancing critical road and bridge projects, finishing the long-overdue expansion of Interstate 93 and improving commutes for our workers and visitors," Hassan said in signing the measure. "A solid, modern transportation infrastructure is the foundation for long-term economic growth, critical to the success of New Hampshire's people and businesses, and I am proud to sign this bipartisan legislation into law so that we can strengthen our transportation infrastructure and boost our economy," said Hassan.
The tax increase takes effect July 1.
Meanwhile, the state Department of Transportation is providing detailed information its website about the road and bridge work being made possible by the tax hike.
The additional work will include over 210 miles of paving and road reconstruction, a doubling of state aid for local bridge projects and funding for the completion of the expansion of the northern portion of I-93 between Salem and Manchester.