Government takes the risk on Bedford firm's Colombian mine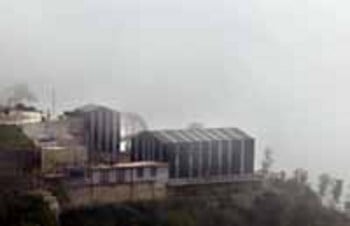 William Dell'Orfano, who heads the firm that has proposed opening a controversial construction waste-burning generator in Hopkinton, also serves as president of Sector Resources Ltd., a Bedford-based firm incorporated in the Cayman Islands, that recently collected more than $3 million through a federal taxpayer-sponsored political violence insurance policy on a gold mine it operated in Colombia.
The Overseas Private Investment Corp., a federal agency that that encourages U.S. companies to invest in developing nations, agreed to pay out the bulk of the money ($2.4 million) in August 2002 to Sector Resources based on a threat of violence in May 2001.
OPIC approved the payment even though no violence actually occurred. The mine had just started up operation before threats by guerrillas forced it shutdown. Plans call for it to resume operation as soon as security measures are in place.
The rest of the insurance (at least $600,000) was paid out to Sector Resources because the threats prevented Dell'Orfano from paying off the contract on leasing equipment from Sector Capital Corp., a firm that Dell'Orfano wholly owns.
Sector Capital, incorporated in Las Vegas, Nev., partly held the mortgage on the Bio Energy plant from 1997 until August of 2002.
The idle wood-burning generator has been the focal point of community opposition.
Bio Energy had been burning whole tree chips for years, but for economic reasons it was attempting to switch to burning wood from construction and demolition debris, which can contain lead. In July, the state granted Bio Energy a permit to emit 2.6 tons of lead a year. Residents are challenging the plan at the town and federal levels.
The OPIC payout theoretically would provide the $2.5 million in financing needed to convert the Hopkinton plant to burn C&D waste.
But the operation "is totally different" from Sector Resources' mining investments. The "two have nothing to do with each other," Dell'Orfano said.
Sector held the mortgage to the plant in conjunction with Le Calorie Inc., a company with operations in Italy owned by Anthony DiNapoli.
DiNapoli, who also has an ownership stake in Bio Energy, recently spent three weeks in Hillsborough County Jail for witness tampering in a case involving a Le Calorie project in Italy. Le Calorie, also incorporated in Las Vegas, operated out of the same Bedford address as Sector Capital at the time it took over the mortgage. But DiNapoli is no longer involved in running the plant, and has no connection whatsoever with the mining operation, Dell'Orfano said.
While there is no record of the mortgage being paid off, Dell'Orfano said that it became void when the mortgagee, Bio Energy Corp., dissolved in August 2002. The plant is now owned by Bio Energy LLC, which holds the air permit.
Risky operation
Dell'Orfano said he became involved in international mining operations because it was a "business opportunity."
Dell'Orfano is president of Sector Resources, which was operated the Las Animas precious minerals mines in the state of Tolima in Colombia.
While the mine was closed for several years, it has a history that spans more than a half-century, during which it produced more than a million tons of minerals. Sector Resources plans to sell high-quality quartz for industrial applications locally, while shipping gold and silver out of the country.
Sector Resources, which hoped to reopen the mine to extract some 200 tons a day from it, incorporated in 1994, according to a U.S. Geological Survey official who specializes in South American mining operations. The firm holds a Colombian "exploitation" license until 2010. Sector started operations in September 2000, said the USGS official, and — according to Dell'Orfano — had mined 7,000 tons, mostly quartz.
The Colombia operation was considered a particularly risky one.
OPIC estimates that there are 15,000 guerillas operating in Colombia, earning some $1.2 billion annually from cocaine and heroin production, which constitute 30 percent of the Colombia economy. In addition, the guerillas earn some $300 million from a year extortion and kidnapping. OPIC violence exposure in Colombia as of June 1999 was $606 million, representing 7.7 percent of the agency's worldwide exposure.
Although the Tolima area is not a particular hotbed of guerilla activity, "similar mines in neighboring states had to suspend operations due to nearby political violence," according to an OPIC action memorandum about the project. "Political violence is a significant concern for this project," especially since Sector Resources was storing explosives on site to use in the mining process, the memo said.
OPIC offers insurance to U.S. companies that take that risk, because the private market doesn't, explained Timothy Harwood, an OPIC spokesman.
"That's OPIC's mission," Harwood said. "This is where we step in."
Corporate welfare?
OPIC critics agree that this is what OPIC is all about, and that, they argue, is the problem.
The Cato Institute, a free-enterprise think tank, is calling for Congress to stop funding the agency, which it labeled a "font of international corporate welfare," in a report on released in September.
"This just shows that the private market doesn't finance such projects without subsidies for good reasons," said Ian Vasquez, director of the institute's Project on Global Economic Industry and co-author of that report. "The chances of something like that happening in Colombia are high. We shouldn't set up a system where we divert capital to countries that have not adequately dealt with fundamental problems."
In any case, OPIC — after conducting a quick check to insure that Sector wasn't involved in drug-running itself — granted the insurance policy in July 1999.
OPIC was willing to supply the insurance to Sector Resources, even though it was incorporated in the Grand Cayman Islands, because of its affiliation with Sector Capital, a U.S. corporation and because Sector Resources itself is wholly owned by U.S. citizens.
The company wanted insurance for the $3.6 million invested in the project as well as $2 million equipment lease to Sector Capital.
Although Dell'Orfano was president of both companies, he wasn't simply leasing equipment to himself, he said. There were other parties involved in Sector Resources, whereas he was the sole owner of Sector Capital. Besides, he said, the companies operated out of two different countries.
Because the insurance policy amount is relatively small, there were no claim caps on the amount collected, according to OPIC documents.
Besides, as of July 1999, OPIC had no history of political violence claims in Colombia. Indeed, according to the OPIC Web site, it had only paid four such claims in seven years, two of them for more than $1 million. In all of those cases, all involved actual damage.
The Web site is incomplete. It doesn't include all of the Sector Resources claims, for instance. However, the figures don't seem to be that far off. In its annual report, OPIC says that it "charged off" $2.4 million in 2001 and $2.8 million in 2002 in political risk insurance. Those "charges" would presumably include claims, but OPIC did not respond to questions for more details on claim statistics by deadline.
In any case, Sector Resources did file a claim shortly after it was threatened by guerillas on May 19, 2001. The Tolio Varon Front of the Revolutionary Armed Forces of Colombia (FARC) stated that FARC would blow up the mine unless its demands were met. Those demands included proceeds from the mining operation, according to OPIC documents. Workers from the mine met with the guerrillas, but five days later FARC repeated its demands and said it would kill anybody who worked in the mine without their authorization.
The company refused to negotiate.
"Any U.S. company that gets itself involved in a foreign country and is affiliated in any way, shape or form with a subversive group is going to have a price to pay," Dell'Orfano told the Associated Press at the time.
On May 29, the workers refused to report to work and the next day, Sector shut down its operations.
Sector appealed to the president of Colombia to negotiate on the company's behalf as part of overall negotiations with the guerillas, but to no avail.
After investigating the claim, OPIC retained Deloitte & Touche to verify and analyze Sector's financial information. Sector fully cooperated, and on Aug. 2, 2002, OPIC awarded the company $2.4 million for loss of business income and lease payment coverage from May 2001 to May 2002.
Despite the continuing threat of violence, Dell'Orfano does not appear to give any indication of abandoning the mine.
"We are still there," he said. "We are attempting to make a deal with the Colombian army to bring in troops, and when we do, we are planning to reopen."
If the mine does reopen, Dell'Orfano said that he would be under no legal or moral obligation to pay back OPIC for reimbursing his company for the loss of a mine it still has and equipment that remains undamaged and on site. That loss, he said, was for the loss of business income — and on a lease that could not be paid — during a specific time period.
"That was for business interruption," he said. "The loss of income during that time we will never get back."
OPIC can seek reimbursement, but that would be from the Colombian government for not adequately protecting the mine.