Gore visits Nashua to praise Kerry, blast Bush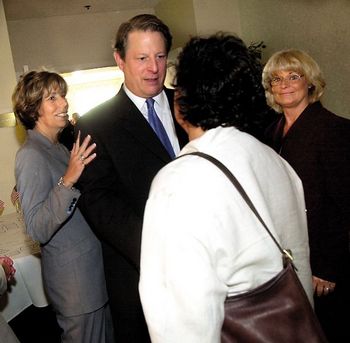 NASHUA – Mixing humor, personal anecdotes and policy analysis, former Vice President Al Gore energized local Democrats on Tuesday to get out the vote.
"The hard truth is our country is in trouble," said Gore, who called himself a "recovering politician."
Gore's criticism of the war in Iraq drew one of the loudest applauses from the party faithful.
"There are a lot of bad guys leading countries in the world, and a lot of people suffering under regimes that ought to be changed," he said at a fund-raiser that attracted about 200 people to the Nashua Country Club.
"But we don't send our troops right into the heart of all of those countries because they are bad leaders. We go to war when we are threatened or when our national interest is really severely at risk."
Historians will look at this time as a time when leaders created a "false impression" to attack awith the Sept. 11 terrorist attacks, he said.
Gore won the popular vote in 2000, but he lost his bid for the presidency in the Electoral College. Had he won New Hampshire, with its four electoral votes, he would have become president.
Now, the Granite State is playing a prominent role in the 2004 election. President Bush and Democratic rival John Kerry – as well as their campaign surrogates – have made frequent visits to the state.
"The stakes have never been higher. It is up to us to make a change. It may well fall to New Hampshire," said Gore, who is traveling around the country to urge people to vote for the Massachusetts senator in November.
A supportive crowd of party members and elected office holders paid $25 a plate to welcome Gore, who posed for pictures with many of them.
"It's a little bit like a family reunion," he said, telling them that his wife sends her best and passing on news of former President Bill Clinton's recovery from heart surgery.
Past supporters of Gore's earlier political battles filled the ballroom at the country club.
State Rep. Jane Clemons, chairwoman of the Nashua City Democratic Committee, said the 2000 election still hurts.
"We still feel the pain of the election. It does energize you" to hear Gore, she said.
Gore's talk reminded people to keep at it, even if the election season is tiring, she said.
Bill Shaheen, who headed up Gore's primary victory in 2000, said Gore is proof that it does matter who is president.
The country would not have been in the present situation if Gore sat in the White House, said Shaheen, whose wife – former Gov. Jeanne Shaheen – is a leader in the national Kerry-Edwards campaign.
Shaheen said the private meeting between Gore and a few large donors before the speech felt like old friends talking.
The Rev. Robert Odierna, pastor at the Good Shepherd Church, said he wanted to hear words of advice from Gore on what issues to focus on in the state and nationally.
Gore touched on the country's economic situation, trade deficit, loss of jobs and its standing in the world.
The country can represent the best aspirations for people around the world, Gore said.
"They want the United States of America that they know and love to stand as the shining beacon of hope for the future of humankind," he said.