Going to the dogs can be an employee morale-booster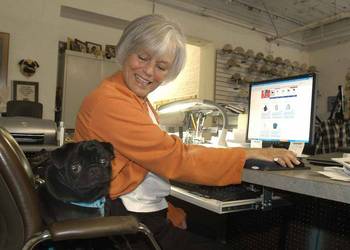 When Debi Carlson, a receptionist and office manager for a small manufacturing company in Manchester, leaves for work she brings her lunch, a bag of snacks, a plastic water bowl and Cassie, the 8-year-old Cocker Spaniel cross she adopted from a local rescue league three years ago.
Nancy Holloway, owner of Yourbreed Clothing Inc. often finds as many dogs as employees at the office of her breed-specific embroidery company located in Manchester's mill district.
For both Carlson and Holloway, dogs at work introduce a level of serenity and comfort not often found in a work environment.
"For me, having my dogs around makes me take a few minutes to stop," said Holloway, owner of two pugs, Lolly Blue and Inky as well as Redstone, an off-the-track greyhound Holloway adopted through a local rescue service. "They're a great diversion. They force you to take a break and slow down a little."
Holloway and Carlson are among a growing number of workers bringing their dogs to work on a regular basis. Internet megacompanies Amazon.com and Google both boast dog-friendly workplaces. Another dog-friendly company, software manufacturer Autodesk – based in San Rafael, Calif., with an office in Manchester — was included among Fortune's 2006 list of 100 Best Companies To Work For.
John Long, spokesman for Pet Sitters International, the creator and longtime promoter of "Take Your Dog To Work Day," said 10,000 companies participated in this year's event, which was held in June. That's up from 500 companies that participated in the inaugural event, which kicked off in 1999 with hopes of promoting animal adoption from local rescues.
"Pet owners are taking better care of their pets nowadays, but they're also working more," Long said. "Having their dogs with them at work alleviates the need to leave at any set time. They don't have to rush home to feed them or let them out. Employers are finding that to be a benefit. Pet owners are finding having their dogs with them is a nice distraction. It forces them to take a moment, that's good for everyone."
Morale-booster
Studies are showing that the benefits associated with a pet-friendly work environment include much more than minor midday distractions or employees free from guilt associated with leaving their four-legged friends at home.
According to the American Humane Association, staff morale and worker productivity increases, as does camaraderie, among employees of dog-friendly companies. Even retail sales increase in stores where dogs are present.
The same study indicates work hours actually increased among employees who were allowed to bring their dogs to work. A survey conducted by SimplyHired.com and Dogster.com appears to support the findings of AHA. According to the survey, 66 percent of employees said they would agree to work longer hours if they were allowed to bring their dog with them. Some 32 percent said they would work for less money if allowed to bring their dogs.
"Traditionally, dog owners have had to go home at 5 o'clock to let their dogs out," said Len Kane, co-editor and co-founder of Dogfriendly.com. "It's just like being a parent. By allowing the dogs, employers get employees who are willing to stay later."
Increased loyalty is another benefit reaped by dog-friendly employers, according to Kane. "Studies have shown people are more likely to remain with an employer that allows them to bring their dog to work."
The growing appreciation for the role pets play in our lives, along with an increase in the number of small, privately held businesses where extended work hours have become the norm, are thought to be contributing to the growing number of pet-friendly workplaces.
According to Kane, some companies are better suited for welcoming four-legged friends than others. High-tech firms, publishing houses, retail operations, advertising businesses and pet-related operations are among the most pet-friendly places, he said. Manufacturing companies, law enforcement agencies and other businesses where large machinery and hazardous waste are used are among the least likely to have a open-door for dogs policy.
Easy remedies
Despite the growing acceptance of pets at work, however, obstacles remain, but they are usually easily remedied, said Kane.
Other concerns include shows of aggression between dogs or towards co-workers, and allergies.
Establishing simple but defined rules prior to the introduction of a pet-friendly policy will often address these according to Kane.
A leash policy goes a long way toward maintaining order and harmony in a dog-friendly workplace. Dogs that are kept close to their owners – either on a leash or behind a barrier – are far less likely to become an annoyance to others or wander into trouble.
Other rules for a dog-friendly workplace include leaving aggressive dogs at home, mandating that vaccines be up to date and mandating that all dogs be house- and office-trained.
"There are some negatives to having dogs, but the concerns don't really prove to be an issue," said Kane. "It almost never happens that a dog pees in the office. If a dog isn't housebroken his owner isn't likely to bring him to work."