Goffstown firm 'really makes a difference'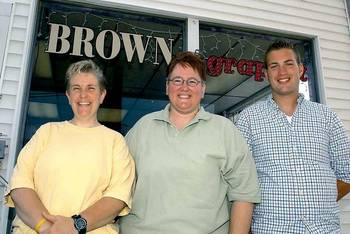 Jennifer Brown, co-owner of Brown Graphix in Goffstown, is only too happy to show off the back of a denim shirt bearing the handiwork of her business. It's one of 40 or so that will be worn by volunteers at this year's Hillsborough County Agricultural Fair.
A total of 157,000 colorful stitches bring to life a barnyard design created by Brown and stitched into the denim under the watchful eye of her one full-time employee, JC Compagna. Each shirt takes two hours to complete.
"Isn't this great?" asked Brown, a member of the fair's board of directors. "This design really meant a lot to me."
The joy Brown exhibits over the finished shirt is indicative of the commitment she makes to all of the customers she serves. The detail she included in creating its design is, at the same time, an indication of the love she has for the community she has called home for nearly all of her 41 years. Add to this Brown's role as employer and mentor to Compagna, and you have the makings of this month's recipient of the Citizens Bank's Not Your Typical Business Award.
"We nominated Jen and her business because of her deep connection to the community and for the care and quality that she offers with her products," said Bob Fischer, assistant vice president for Citizens.
The embroidered shirt is only one example of the work Brown does at the 27 Main St. facility owned by her and co-owner Charli Brown. The company also provides customers with graphic design services, in-house screen printing, vinyl truck lettering and paper printing services.
"We do it all here. People can come in with just an idea. We'll talk about it, we'll give them some feedback and make it happen for them," said Brown.
A third-generation resident of the Goffstown area (Brown lives in New Boston), Brown takes pride in operating her own business in the same spot that once housed her father's gas station.
"People feel at home in here, and that's kind of neat. I think people felt that way when my dad owned it too. It's a down-home feeling and I like it. It's fun."
Longtime ties
Brown Graphix may be a small operation, but it is well respected among the locally owned businesses, civic organizations, schools, sports leagues and municipalities that utilize its services.
True to her optimistic tendencies, Brown finds advantages in being a small business in a competitive industry. She's able to put her commercial design and illustration background to work by offering personal one-to-one service to each customer walking through her door. She's also able to make last-minute decisions, rearranging priorities if necessary to meet emergent needs.
"Sometimes people need stuff last-minute," Brown said. "We can do that, that's what makes us competitive. That's what brings people back."
Brown estimated that nearly 70 percent of her business is from repeat customers. Word-of-mouth takes care of the rest.
"If you do a good job, that customer will tell someone," Brown said. "If you do a bad job, he'll tell six people, so you make sure it's done right."
Getting things done right the first time is something Judy Kunz-Porter has come to expect from Brown Graphix.
"Jen is always willing to give that individualized service," said Kunz-Porter, business manager for Gotkeys Unlimited Inc., a clothing manufacturing company in Manchester, which has used Brown Graphix's services for more than a decade. "It's never like dealing with some big business where we'd be just another number."
In-house, Brown takes her role as an employer and mentor just as serious as she takes her business. After hiring Compagna four years ago, when he was only 15, she spent time teaching him what she knows about the industry. She also has nurtured in him a work ethic that has served them both.
Compagna, an integral part of Brown Graphix, enjoys being part of the small business.
"This is a great atmosphere to work in. There's always a new challenge, a new project and that keeps it interesting," Compagna said. "We both have our own strengths and work well together."
Brown believes she has benefited from the time and patience she invested in mentoring Compagna. But investing time and effort in the things you believe in is not new for the local entrepreneur.
Brown's longtime ties to the community have led to involvement on local boards, including the New Hampshire Equine Humane Association and the Hillsborough County Agricultural Fair, which is held annually off Route 13 in New Boston on a site that was once home to a local ski area owned by Brown's grandfather.
In addition to being a foster parent, Brown volunteers with the Goffstown Main Street Project and supports local charities on a regular basis. She also is a founding contributor to the Collette Showerman Fund, a collaborative financial source currently being established to offer financial assistance to local youth initiatives.
"Jen is the type of person that is willing to help just about anyone in need," said her banker, Bob Fischer. "She sponsors events in whatever way she can, and has an in-depth knowledge of the Goffstown community. She uses this knowledge and influence to really make a difference."
The Citizens Bank Not Your Typical Business Award is presented in partnership with New Hampshire Business Review. Businesses are selected each month based on the company's commitment to community, colleagues and customers. Visit Citizens Bank online at www.citizensbank.com.