Gingerbread village at city church dressed up for the season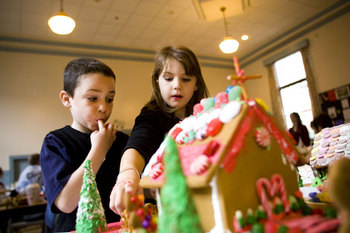 NASHUA – In a land founded solely on sugary sweetness, where village houses all start out the same but soon take on a special individuality unique to the imagination and creativity of its creators, a visitor is treated to some of the finest architecture anywhere.
Take Carole Barker's evergreen trees of inverted ice cream sugar cones and pretzel-stick trees with gumdrop foliage. Or a two-panel front door of two Hershey bar squares, a meandering, flagstone walkway of Necco wafer chips and a half-cord of mini-Tootsie Roll firewood at the house that 15-year-olds Stephanie Landry and twins Sarah and Ariel Sherman were building.
Or the all-pink construction of 13-year-old Jackie Marshall's abode, which, with its giant ribbon of pink icing on the (white frosting) snow-covered lawn and smaller ribbons adorning the front and side walls, stands in stoic support of women with and recovering from breast cancer.
They're just some of the more than 30 gingerbread houses that all generations of Church of the Good Shepherd parishioners gathered to construct, decorate and landscape Sunday as part of an annual tradition overseen for years by longtime congregant Jeanne Klink.
"Each year there seem to be a couple more," Klink said, standing in the middle of a hubbub of excited homebuilders and occasionally dodging lightning-fast small fry who apparently couldn't resist ingesting some of the tastier building materials.
"The kids all look forward to this weekend . . . it's so wonderful to see everyone having so much fun."
Klink, who has headed up the nearly 20-year tradition since 1992, the year after her husband died, said volunteers will arrange the completed gingerbread houses into a village this Saturday in preparation for Sunday's viewing.
Church-goers, as well as the public, can tour the village Sunday during and after the three services, roughly between 8:30 a.m. and 12:30 p.m. The houses will also be for sale, with proceeds benefiting the church.
Jeff and Mary Beth Snow have been Good Shepherd parishioners for years, but Sunday was their first go at gingerbread house construction.
"Hey, it's not just for kids," Mary Beth Snow quipped without taking her eyes off the bead of cake-frosting caulking she was laying to seal the gap between her house's roof and exterior walls.
"She's doing most of the work. I'm kind of wandering around, watching," Jeff Snow said.
"He's eating all the candy; that's what he's doing," his wife quickly added without breaking her concentration.
Caulking done, Mary Beth Snow turned her attention to making the yard a bit more seasonal. Soon, a shredded coconut blizzard had arrived, accumulating quite rapidly and forcing Snow to redistribute some of the higher drifts.
Across the room, Barker struggled with every homeowner's nightmare – too much yard and too few landscaping materials to do it right.
"It turned out a little bigger than I thought," said Barker, who brought along her mom and favorite subcontractor, JoAnn Murphy. "Oh well, we'll make do with whatever we can find."
In something of a departure from the typical practice of building a roof of Necco-wafer shingles, Barker and Murphy went with another old favorite, the peppermint-flavored Starlite candies. A series of those familiar sprinkled chocolate dots with the oddball name – Non-Pareils – laid single-file made the perfect stone walkway around the property.
Nearby, participant Marylu Klum gently rotated her nearly finished creation to reveal an amateur historian's delight – a gingerbread reproduction of the 18th-century "saltbox" in which Klum grew up in her native Belmont, Mass.
"I decided to make it look a lot like my old house," Klum said. Indeed, with details like the oversized, center chimney characteristic of period saltboxes and windows of vanilla icing drawn very close to scale, Klum proved she still has vivid memories of her former home.
Meanwhile, the Sherman twins and friend Stephanie Landry worked in concert, each taking one side of their developing A-frame house.
Ariel Sherman stepped back to critique her newest addition, an oval window over the strawberry-wafer back door. "It was a lollipop – I just pulled the stick out and it's a window," she said.
"We call this 'creativity at the spur of the moment,' " her sister said from the other side of the house. "The best thing is, if you make a mistake, you can always turn it into something good."
For Klink, Sunday's decorating party capped a hectic extended holiday weekend that began Tuesday.
"We have this Thanksgiving tradition, all four of my family members and their families come up here," she said. It's been a great week for her, but a really busy one. "I did oversleep this morning," she admitted. "But that's OK, everyone was already here and making up the icing in the kitchen. They're great, a lot of people do a lot for this event."
And then, Klink said, besides all the fun, camaraderie and parishioner brotherhood that gingerbread village season brings, there's that other great upside, the ones parents perhaps appreciate most:
"It's a lot easier to make a big mess here rather than at home," she said with a laugh.