Giant mixed-use project envisioned in Hudson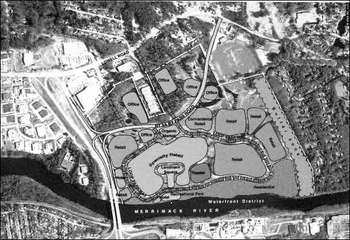 Plans to develop the Green Meadow Golf Club in Hudson call for turning the 375-acre parcel into something of a small town, with a riverwalk, restaurants, expansive retail centers, housing, office space and a major roadway.
Representatives of the developer, W/S Development Associates, shared their view of what they called a mixed-use "lifestyle center" at a meeting last month with selectmen and Hudson residents.
"We call it the sidewalk experience," said Richard Askin, project manager and director of retail planning for W/S Development. "It's not just about storefronts and what happens inside the store."
Golf courses are definitely not part of the plan.
Plans for Green Meadow show the majority of land dedicated to retail shops, but include designs for riverside walking paths, a garden-style hotel and natural buffers to separate the complex from nearby homes.
The shopping plazas are designed to resemble town squares or downtown main streets. They're laid out in city blocks with oversized sidewalks, landscaping and tree-lined boulevards.
They feature retail shops, such as Whole Foods Market, Ann Taylor, Banana Republic and Coldwater Creek, according to a video W/S Development showed at the meeting.
The developers said the plans are still conceptual and might change.
"We don't have all the answers right now, but you need to start somewhere," Askin said. "You start with a concept."
The Green Meadow property is made up of three parcels worth more than $1.5 million, according to Hudson property records. The buildings on the property, including a Golf & Ski Warehouse, are worth nearly $2.75 million – putting the overall value at $4.3 million.
The Golf & Ski Warehouse and the driving range on the property are not part of the development deal and will remain open. However, both the Prairie and the Jungle golf courses would be developed, preliminary plans show.
W/S Development, and its affiliated management company, S.R. Weiner, also developed Reeds Ferry Crossing in Merrimack and are currently building a retail development featuring a Lowe's and Staples on Route 101A in Amherst.
The company's other larger developments include Marketplace at Augusta in Maine, which has 1.3 million square feet of shopping space, and the Shoppes at Blackstone Valley, in Millbury, Mass., which is 800,000 square feet.