General aviation industry has a 'hidden' impact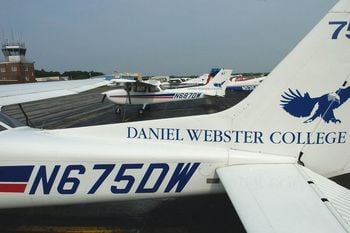 Many industries in New Hampshire are "below the radar." They're businesses that for one reason or another are not very visible or are hard to reduce to mere statistics. One of them is the general aviation business.
A general aviation firm owns or operates aircraft for use by private plane owners and passengers, as opposed to companies that operate scheduled airline passenger or cargo service or belong to different branches of the armed forces.
While it's a low-key business, a few facts about general aviation in New Hampshire do emerge.
There were 1,412 aircraft registered in New Hampshire last year, and they yielded registration fees to the state of $943,335. State taxes on aviation fuel sales totaled $311,182.
New Hampshire is home to 27 airports and heliports that are open to the public, some of them privately owned. Brigham Heliport in Bow and Silver Ranch in Jaffrey are among the better known privately owned airports. Some of the state's larger companies own their own such facilities, including Fisher Scientific and Foss Manufacturing, both in Hampton.
Some 69 companies – other than scheduled airlines — are based at New Hampshire airports, and they operate aircraft in order to carry out some or all of their business.
Some, like C-R Helicopters operate out of two or more airports. C-R has facilities at Boire Field in Nashua, Concord Airport and Dillant-Hopkins Airport in Swanzey. Others offer a wide range of aviation-related services. C-R, for example, offers aerial advertising and aerial photography services, an air taxi service, it rents and stores aircraft, sells aviation fuel and other supplies, conducts FAA check rides, offers flight training, sells and leases aircraft and offers scenic tours.
A company like a parachute instruction firm isn't considered a general aviation firm because it rents, charters or leases the aircraft needed for its operations.
That bring us to another element of the general aviation business in this state.
Hundreds of privately owned aircraft are owned by individuals and companies that own only one aircraft, but they also are often in the aviation business.
State Aeronautics Division Director Jack Ferns explained how: "There are days, weeks and months when someone is not flying their aircraft. Instead of just letting it sit there, aircraft owners rent or lease their aircraft to companies for several purposes, including air charter, air taxi and delivery of small packages for the large air package carriers like FedEx and Airborne. Actually, many businesses that own aircraft, like manufacturing and construction companies, lease out their aircraft during the time they are not using them. On the other hand, there are individual owners who rent or lease their aircraft but do not set up a company that owns them."
Essentially, the chartering company must have complete control and responsibility for the aircraft. So these leases usually extend for at least a month, and more likely a year.