Gear swap brings flurry of seasonal savings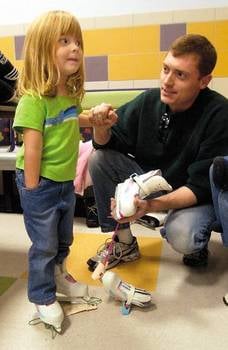 NASHUA – Mark Ferman peered into a bin stuffed with ski poles, occasionally lifting one in the air to examine it more closely.
Wedged between racks of winter coats and shelves lined with skis and boots, he sifted through the poles until he found the pair he wanted.
"I like the old ski poles with the handles on them," Ferman said, pointing to a set with white rubber grips. "They don't make them anymore."
Ferman wasn't shopping at a ski store Friday afternoon – he was browsing through the Nashua High School South cafeteria on the first day of the weekend-long Ski Swap Shop.
For $3, he picked up a pair of poles that would be difficult to buy elsewhere and, if located, would cost about 10 times more.
"It's like, why buy a new car when you can buy a used car that's just as good?" he said.
This year marks the 28th anniversary of the Exchange Club of Nashua's ski swap. People bring their old equipment to sell, and vendors from local ski shops offer their merchandise at a discounted rate.
When an item is sold, the owner or vendor keeps 80 percent of the purchase price, and the Exchange Club keeps 20 percent, which it later donates to various youth charities.
The Exchange Club is a national community service organization that has been in operation in Nashua since 1947.
The sale began Friday but continues today from 9 a.m.-5 p.m. and Sunday from 9 a.m.-3 p.m. The deadline to drop off equipment is noon today.
For sale at the swap is a variety of new and used winter sports equipment and accessories, including skis, boots, poles, helmets, snowboards, ice skates and winter coats.
Sometimes people bring toboggans to the swap, but they always sell out quickly, said Ed Flynn, the assistant chairman of the ski swap committee for the Exchange Club. Items are priced from $3 to $350, he said.
The equipment is about half the price it would normally be, said vendor Brian Fiske, so the sale is ideal for families who cannot afford to outfit everyone with ski equipment at regular prices.
"It's so cheap people think, 'what's wrong with it?'" said Fiske, the manager of Zimmermann's ski, snowboard and watersports store in Nashua. "There's nothing wrong with it at all."
A steady stream of winter sports enthusiasts passed through the cafeteria Friday afternoon, including many families looking for skis, boots and ice skates for their children.
Ten-year-old Finny O'Connor got his snowboard at the sale last year, and Friday he was looking for a pair of boots to match. His dad, Fin, is a ski instructor in the family's home state of Pennsylvania.
The O'Connors were on their way home after coming to Nashua for Thanksgiving but couldn't resist stopping at the swap first.
Roy Jack and his sons, Tim, 14, and Randy, 9, stood in line Friday afternoon to pay for their new ski accessories. They brought some of their old equipment to be sold and replaced the items with a new snowboard for Tim and a new pair of skis for Randy.
Mary Levine examined a wooden table full of helmets, her arms full of skiing equipment. She already had set aside a pair of skis, poles and boots as she picked up a black helmet and turned it from side to side in her hands.
Levine, who has been skiing for about seven years, hoped to find some affordable gear at the swap so she could begin her skiing season.
"I was looking for a good deal on some equipment so I can hit the slopes," Levine said. "I'm getting the whole shebang."