Gauchos Churrascaria: an enticing dining adventure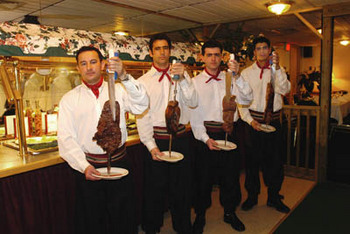 The next time you want steak, go south of the border. To Brazil.
Gauchos Churrascaria Brazilian Steakhouse in Manchester is a whole new concept in steakhouse dining, with fixed-price continuous tableside service of 11 different kinds of steak, meat, fish and poultry.
Light Brazilian jazz provides a tempting atmosphere as you begin your first course at the sumptuous salad bar. Garden salads, chilled and marinated salads and fresh breads whet your appetite.
When you return to your table, you will be presented with a colored card. This is the secret to your dining experience. While the green side is up, a Gaucho chef will arrive at your table bearing succulent choices of beef, pork, salmon, poultry, lamb and sausage skewered on swords, all cooked to perfection and sizzling in their own natural juices.
They will keep returning with selections until you flip the card over to the red side for a temporary respite from the carnivorous hedonism or cry for mercy to call an end to the meal.
A word of advice — do not take too much of any one item or you will run out of room before you have tasted them all!
Unlike Mexican cuisine, Brazilian food is mildly spiced. Owner Jose Nieves likes to let the food's own flavors come out. "Our meat is the highest quality available. We don't season it with anything other than a little salt," said Nieves.
Your entrees are paired with delicious side dishes of rice, freshly prepared salsa, Brazilian black beans and tiny buttery new potatoes. Fried plantains (mildly flavored bananas) and potato-like yucca also accompany your meal.
Gauchos also has a nice wine list, with labels from South America's finest wine-growing regions of Chile and Argentina.
Rich desserts and Brazilian espresso make for a satisfying finish.
Nieves describes Gauchos as "The Never Boring Steak House," and he's right Ð Gauchos is not just a restaurant, but a dining adventure.
Gauchos Churrascaria
1001 Elm Street, Manchester
669-9460
Adults, $19.95; children, $9.95.
Wine and dessert extra.
Hours: Tuesday-Saturday, 4-10 p.m.; Sunday, 12 noon-9 p.m.