Game Creek Video founder named Entrepreneur of the Year
Patrick Sullivan honored at NH High Tech Council event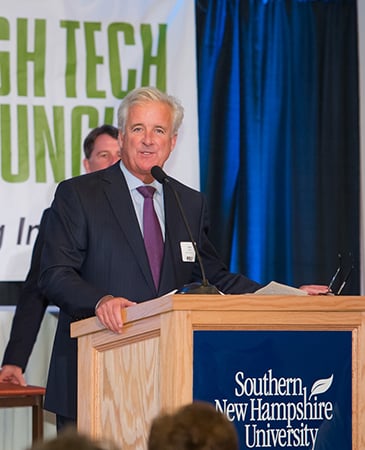 Patrick Sullivan, president and co-founder of Hudson-based Game Creek Video, a company that provides mobile high-def video and television production services for sporting events throughout the U.S. and the world, has been named the 2016 Entrepreneur of the Year by the NH High Tech Council.
The award was presented to Sullivan at the council's annual celebration on June 7 in Manchester.
Sullivan was honored for a career that has evolved from sports team management into creation of an innovative and Emmy Award-winning business that produces major sporting events for a wide range of networks and organizations.
"We have been lucky to work with some of the most brilliant and passionate people who have made our company what it is today," Sullivan said in accepting the award. "One of the truly great strokes in my life was the decision to move my business to New Hampshire … I can only hope that the entrepreneurs that follow us will have the same exposure to these great resources, and that the great state of New Hampshire continues to invest in and recognize the value of human capital that is nourished and thrives here."
Sullivan launched Game Creek in 1993 with two mobile television production trucks, six employees and the knowledge that comes with growing up in major league football.
The company now has a fleet of 35 trucks, a team of more than 100 employees, and a presence at virtually every major televised sports and political event in America.
Sullivan is a former ball boy, stadium manager and New England Patriots' general manager (his family owned the Pats for almost 30 years). Among his many technological accomplishments, he helped launch the world's first large-scale IP-based routing system in a remote production facility in 2015, which served as the primary home for the 2015 U.S. Open golf tournament television coverage for Fox.
The Game Creek Video team has received more than a dozen Emmys and Emmy nominations for their part in technical remote productions on NASCAR, "ESPN College Gameday," ROOT baseball, and the ESPN NBA Finals.
At the June 7 event, the council also recognized the other Entrepreneur of the Year Award's finalists, Howard Brodsky, CEO of CCA Global Partners of Manchester, and Marjorie and Stephen Thorpe, president and vice president of finance, respectively, of Adaptive Communications LLC of Portsmouth.
Sponsors of the annual event were Dyn; FairPoint Communications; Nanocomp Technologies; Autodesk; Baker Newman Noyes; Brady Sullivan Properties; Cirtronics, Cook, Little, Rosenblatt & Manson; People's United Bank; Newforma; Hypertherm; TD Bank, UNH Manchester; and media sponsor NH Business Review.