Funspot's 52 years of games add up to a serious business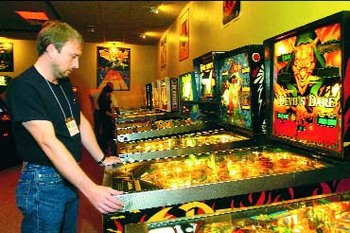 They're here to protect the planet from dangerous space invaders, capture running blue ghosts in a maze and guide little cartoon plumbers through a crazy building.
In early June, more than 50 people gathered at the Funspot arcade in Weirs Beach for the sixth annual International Classic Video and Pinball Tournament. Scores were tallied from competitions on Space Invaders, Pac-Man, Centipede, Donkey Kong, Mario Brothers, among some other classic video games.
The winner was declared the world champion of video games, because Funspot – which is the second largest arcade in America – has the largest collection in the world of classic video games from the 1970s and 1980s in the world.
"This is the center of the video game world," said Walter Day, editor of the official video and pinball game book of world records, Twin Galaxy, as he sat at the scorer's table.
For Bob Lawton, the owner of Funspot, it's a compliment, but it's not exactly how he sees his huge operation.
Lawton prefers to think of himself as New Hampshire's Walt Disney, and his late brother John as Walt's brother, Roy.
"I was always like, 'let's do it, let's build it.' And he was always like, 'sure, but where are we going to get the money?'" Lawton laughed.
John Lawton died last year, but Bob and the rest of the Lawton family still carry on the tradition. The video tournament is just one event. Funspot also hosts parties, corporate events, family gatherings, car shows, the Miss Winnipesaukee pageant and a huge annual community Halloween party. The main 55,000-square-foot building has more than 500 games. There are two miniature golf courses, an indoor full golf course simulator, a 20-lane electronic bowling alley, an outdoor driving range, a full-menu restaurant/tavern and a bingo hall.
While the Lawtons don't have a Disney-like entertainment empire, they're still doing all right. Funspot gets about 600,000 customer visits per year, and the average visitor spends about $10 per visit. There are about 50 year-round employees, and about 100 more people are hired during the busy summer season. Monday, July 5 – the rainy conclusion of this year's July Fourth weekend – was one of the busiest ever in Funspot's 52-year history, Bob Lawton said.
Riding the game wave
He never intended to go into the arcade business. When he graduated from Norwich University in 1952, Lawton was simply looking for something to do unrelated to chemistry, which was his major in school.
"By the time I graduated I knew I didn't want to be a chemist," he recalled.
One of Lawton's college roommates came back from spring break that year talking enthusiastically about the crowds he'd seen at a golf driving range at a New York resort.
"I got to thinking about The Weirs," Lawton said. "I went to school in Lowell, Mass., but I grew up here. I'd spent all my summers here."
The Weirs had always had summer visitors, but the post-World War II economy gave middle-class people discretionary income they'd never had, and they were using it to enjoy themselves. Bob and John Lawton borrowed some money from a relative and built a nine-hole miniature golf course on the second floor of a building on Lakeside Avenue.
"We charged people 35 cents a game," Lawton said. "And there were lines out the door every night."
The brothers added some arcade games, and it wasn't long before they had branch operations opened in Wolfeboro and York Beach, Maine.
But the Lawtons soon saw problems in Weirs Beach. Every night, they'd see scores of cars circle around Lakeside Avenue several times, then drive off.
They decided to build a bigger facility outside the village, one to which people could drive and always find parking. It was a bold move at a time when many businesses owners still thought it was essential to be "in town."
The brothers started by building a miniature golf course, an outdoor play area for kids and offering some arcade games. Before long they added a 40-by-100-foot billiard room, a driving range and a slot car room. In 1967, they started work on a seven-acre children's theme park called Indian Village. Another park, Storybook Forest, soon followed.
In the 1970s, the arcade business underwent its most dramatic transformation when video games became popular. In the next few years, the Lawtons opened new six other Funspots, including three in New Hampshire.
But the craze died out almost as quickly as it began. "More than half the arcades in America went out of business," Lawton said.
So the Lawtons shed their branch operations and kept doing what worked best for them.
"We would always be looking at things other people were doing around the country, things that worked," Lawton said. "And during the video craze we always had the prize games and pinball games where everyone else got rid of them."
Over the years, Funspot shed its theme parks and the billiards hall, but the owners kept the Disney model in mind. Funspot recently added bowling, the bingo hall and the indoor golf area, following a growing industry trend of appealing to adults. Lawton's also considering building a video and arcade museum.
"When something doesn't make as much money as something else might you've got to move on," Lawton said. "When it's indoors it's all about square-footage. What's going to make you the most money per square-foot?"