Fuller's Sugarhouse expands maple business in North Country
Company adding new sugarhouse, million feet of sap piping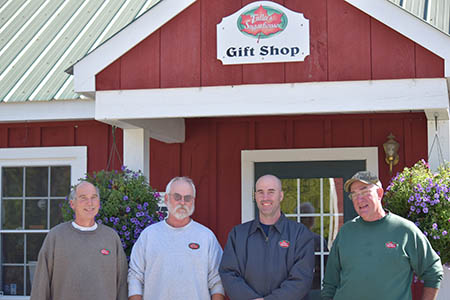 Work is continuing on a major expansion project at Fuller's Sugarhouse, a North Country landmark.
Fuller's, a family-owned and -operated business, is building a new 40-by-80-foot sugarhouse on Route 2 in Jefferson and 1 million feet of piping to transport sap directly from the maple trees to the sugarhouse for production. The new sugarhouse and sugar bush are located on a 723-acre parcel within the 10,000-plus-acre Randolph Community Forest. The sugarhouse construction is expected to be completed by the beginning of November.
The company said the sugarhouse will contain an evaporator and three climate-controlled tanks with a combined capacity of 18,000 gallons.
"The sap will be piped directly into climate-controlled tanks inside of the new sugarhouse and not be exposed to air until production," said owner Dave Fuller. "This gives us even more control over the final product and continue our ability to ensure food safety and quality."
Another advantage of having the sugarhouse in close proximity to the sugar bush is that visitors interested in learning how maple syrup is produced will see the entire maple syrup production process in one location. Fuller expects that this maple syrup production will increase the size of his current operation, he said.
All of the maple syrup produced at the Fuller Maple Farm will be packaged in the current Fuller's Sugarhouse facility at 267 Main St. in Lancaster.
Dave Fuller was 17 when he started his first sugarhouse, a small shack in the woods with a mud floor and a used evaporator that cost him $300. Over the years, the business has grown and Dave Fuller and his wife Patti established the sugarhouse and country store in downtown Lancaster to be more accessible to visitors.
The Fuller Maple Farm is the next evolution for the Fullers. "It took a lifetime to get to this point," said Dave Fuller. "This is truly a labor of love."