From the Ground Up: The Factory on Willow
'If you restore it, they will come'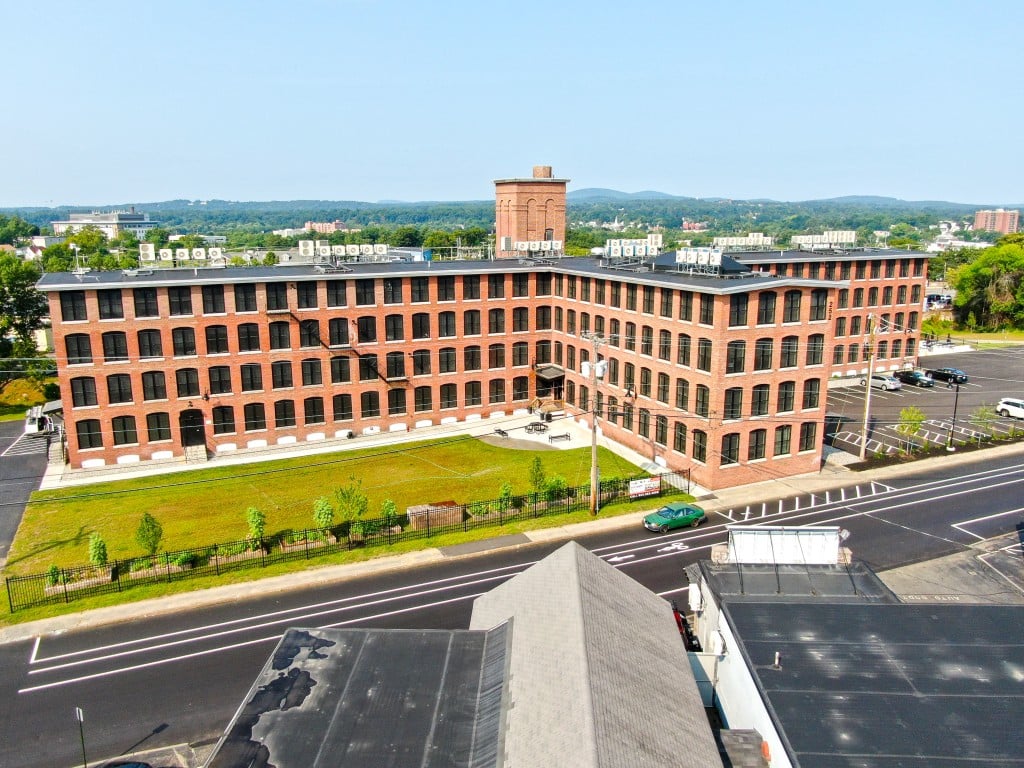 Remember the movie, "Field of Dreams" with Kevin Costner and James Earl Jones? An Iowa farmer is summoned by voices from the Great Beyond to build a baseball stadium in his corn field. One of the most iconic lines that is now part of our popular culture is "If you build it, they will come."
In the case of The Factory on Willow, the saying would be, "If you restore it, they will come" and inspire other investors to do the same with other properties in Manchester's South End.
When Elizabeth "Liz" Hitchcock decided to purchase the former Cohas Shoe Factory on 252 Willow St. in 2019, she formulated a concept they knew would yield great dividends. Her plan was to restore the 90,000-square-foot factory into a mixeduse development where artists and gig professionals could live, work and enjoy everything that downtown Manchester has to offer while preserving the rich history of the mill that was constructed in 1904.
Preston Hunter, vice president of Eckman Construction Co. in Bedford and the project's general contractor, explained the end result is a four-story complex that includes 61 studio apartments, commercial space, a food truck court and 16 Airbnb units to accommodate nurses and visiting high-tech workers. The Artist in Residence program also enables artists of all types to live and complete special projects at The Factory on Willow.
Hunter said the space also includes commercial uses that may eventually include a craft distillery, beer garden and office space. Loon Chocolate and 603 Charcuterie have already established thriving retail businesses there, and a large event space is available for rental.
"There are a lot of opportunities for different uses," Hunter said.
In addition to the food truck patio, Hunter said an amphitheater is planned where live performances will be staged.
"We are in the process of creating a distillery on-site," said Hunter, adding that it would consist of a free-standing building that would include a tasting room.
"We did create, in addition to the food truck patio, an area for residents who would like to have raised beds and grow some vegetable gardens and other plantings."
Besides the amphitheater and additional landscaping that will take place throughout The Factory on Willow's property, Hitchcock recently said she is banking on two transportation projects to spur growth in the South End and fuel greater success for The Factory on Willow. The first includes a $25 million federal RAISE grant that will be used to create a new roadway with a bridge and pedestrian bike access near the intersection of South Willow St. and Queen City Ave. along with a pedestrian bridge over Granite Street. The second is the completion of the South Manchester Rail Trail that runs directly behind The Factory on Willow. The rail trail is part of a much larger network that will eventually run from Goffstown to the Seacoast. When completed, both projects will offer improved access to the South End.
Hunter said that Hitchcock's vision was to create a living space where art would be promoted and celebrated as well as integrated into the surrounding community.
Hitchcock also selected items to be featured in the building to display its rich history, including the original wood and glass doors, cast iron boiler arch doors and a wooden beam that has been repurposed into a bench in the lobby.
Adam Wagner, owner of Market Square Architects in Portsmouth, played an instrumental role to help Hitchcock transform her vision into a dynamic design that incorporates the mill's rustic red brick walls and timber frames in the building's open-air studio apartments. Orbit Group with visiting designers created the furnished Airbnb units so they will appeal to the targeted demographic of artists and gig economy workers.
"What's unique about this project is residents are looking for more than just cookie-cutter apartments. They want to be part of a community," Hunter said. "It is set up to be a real live-work studio experience."
By combining a millennial-style, live-work experience and the history of the former McElwain Shoe Factory, Hunter believes that Hitchcock succeeded with all of her goals.
Hunter's family also has a direct link to the mill's storied past.
"My mother-in-law worked in the shoe factory when she was a teenager," he said.
The two-year project that began in 2019 was completed in March 2021 when the first residents moved into the building, Hunter said.
All of this was happening during the Covid-19 pandemic. "We were able to keep the job site running throughout the pandemic," Hunter explained.
Hunted pointed out the process to transform the once abandoned factory into its current use was a challenging one. "It is important to remember that this building was a collection of additions that had been tacked on to the original mill building over the decades as the use had changed and it presented a lot of complications and challenges from a design standpoint," he said.
They partnered with Market Square Architects to deal with those challenges. TFMoran, the structural engineer out of Bedford, played a key role in helping them evaluate the structure of the building and the additions, Hunter said.
"We determined as a team that some of the newer additions were functionally obsolete. We ended up demolishing some portions of the building that were not part of the original mill building that was bult in 1904," Hunter said.
"We brought the building back to its original form. That allowed us to keep what was best about the building and remove the portions that didn't add any value. We also exposed portions of the building that hadn't seen the light of day for a very long time," Hunter explained.
He noted the project included a lot of masonry restoration. He said there is a tower that was part of the original mill complex that was restored. There was also a great deal of masonry undertaken on the outside and inside of the building.
He said the building also had a timber frame that was showing its age. "The structural engineer evaluated every beam and every column after we had opened and exposed everything to identify the ones that needed to be re-supported."
Like many mill restoration projects, this one also required its share of environmental remediation.
"The building also did contain some asbestos and lead paint, which had been sort of buried under multiple layers of flooring. We had to remove all of the hazardous materials and everything was disposed of to create a clean environment, so we could start essentially with a clean slate," Hunter said.
Hunter said the site was also home to a former underground oil storage tank that had failed 50 years ago. The tank had leaked its heating oil, and it was a managed site by the state Department of Environmental Protection. In most cases, developers might leave it alone and pave over it. But Hitchcock decided it was best to remove the contaminated soil and clean up the site with fresh soil. The building and site were then completely cleaned out and restored to their original state.
"The team really put the time and the effort in to understand the unique quirks of the building as much as possible before we started construction. The building really has great bones, and the design goal was to really showcase the existing qualities as much as possible," Hunter said.
Some of the other improvements included two new stairwells to meet new egress requirements for the apartments on both ends of the building floor to floor. The building was also designed to provide fresh air to every apartment and common space in the building. New windows were installed throughout the building with beautiful black frames that are historically accurate and provide great natural light throughout.
"It is also an investment in the southern part of the city. There has been a lot of redevelopment in the Millyard, the North End and downtown. This project is the first to recognize there is great opportunity in the South End of Manchester. It has created a bit of a destination onto itself by having all those amenities. It will also create an opportunity for development in this part of the city as the need for housing continues to grow," Hunter said.
The team's collective efforts to create a new crown jewel in Manchester has also gained recognition from Plan NH, which awarded the project a merit award in June.