Franklin Savings boosts Laconia theater redevelopment
Bank donates $100,000 to downtown economic revitalization campaign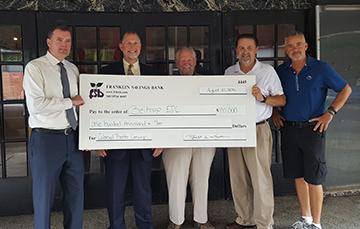 Franklin Savings Bank's recent $100,000 donation has moved the fund-raising effort to renovate and restore the Colonial Theatre in Laconia closer to its $2 million goal.
According to The Laconia Daily Sun, Magoon, president and chief operating officer of the bank, called the effort "a great community project and a great opportunity to restore what was a gem in its time to its original glory."
He said theater's reopening would be "very meaningful to the economic development of the city and the region."
The project is being spearheaded by the Belknap Economic Development Council. It is undertaking the capital campaign as one element of a $15 million financing package that also includes grants and investments from both public and private sources.
On Tuesday, the state Community Development Finance Authority awarded the BEDC $650,000 in tax credits to help fund the Colonial Theatre project.
Justin Slattery, executive director of the BEDC, said he was confident the fundraising effort would reach its goal by Dec. 1. He added that he expects to announce more major contributions in the coming weeks.
For more information, visit 609mainstreet.org.