Four lawmakers vie to fill position left by Chandler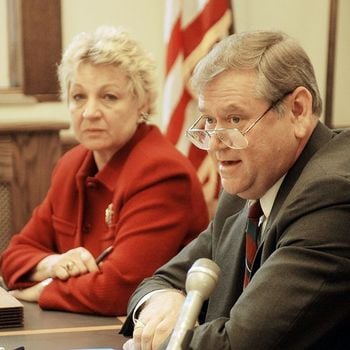 CONCORD – The four known candidates to replace House Speaker Gene Chandler of Bartlett include one Republican who once had the job, a second who has been in training for it, a third who ran twice unsuccessfully to get it, and a Democrat who even in losing could become a kingmaker.
Here is look at the field as it stood Monday night:
– Deputy Speaker Michael Whalley, R-Alton, won Chandler's endorsement Monday but denied that his mentor would retain any clout upon becoming just another member of the 400-person House of Representatives.
"Gene Chandler will always be a friend of mine, but Gene Chandler does not have any unfair influence or any greater influence on me than would any other member of the House," said Whalley, who turned 51 this month.
Whalley, who is entering his seventh term, said the troversy and ban all cash gifts to lawmakers.
"I would feel comfortable supporting legislation that would eliminate gifts to members for their own personal benefit, not campaign contributions," said Whalley, who owns two dealerships that sell recreational crafts such as snowmobiles and jet skis.
– Former House Speaker Douglas Scamman, 64, said he remains optimistic that enough House members will want to make a clean break from Chandler's leadership team.
Scamman vowed to reduce the role Chandler's entire leadership played in trying to shape committee votes.
"I want to go back to the committees having a position of strength, rather than have people in the front office making strong suggestions about policy," he said.
"I never told anyone how to vote. (I) certainly let them know how I felt, but they were always free to vote their conscience. I think that makes for a better Legislature."
Scamman acknowledged that testimonials generated cash donations to him in 1987 and 1989. But unlike the corn roast fund-raiser for Chandler, he said, all donors at the time were publicly disclosed.
The tradition had gone back at least to 1957, when Scamman's late father had served as speaker and included similar fund-raisers for the House's top Democrat many times, he said.
"The speaker's testimonial has been a tradition for many years. I went to one when my father was there," he said.
"I understand they did get stopped for a time after I left."
A family farmer, Scamman was speaker for a four-year period that ended in 1990, when he left to run unsuccessfully for Congress.
He later became a budget director to former Republican Gov. Stephen Merrill and administration director for the Department of Transportation before retiring a few years ago.
– Kingston Republican Rep. Kenneth Weyler ran for speaker and lost against incumbent Donna Sytek in 1998 and then against Chandler in 2000 to fill a vacancy after Sytek retired.
This fall, Weyler chaired the unsuccessful bid of Windham Republican Rep. Anthony DiFruscia to deny Chandler renomination for a third term and brought the ethics complaint against Chandler in tandem with Keene Democratic Rep. Charles Weed.
Voters elected Weyler on Nov. 2 to a ninth term.
"I saw a style of leadership that existed for eight years, and Mike Whalley has been part of that leadership. It is corrosive and manipulative," said Weyler, a 63-year-old retired airline pilot.
– Manchester Rep. Jim Craig was nominated to become House Democratic leader 10 days ago by a one-vote margin over Portsmouth Rep. Terie Norelli.
Craig, 53, intends to continue practicing law in a firm headed by his father, Bill.
"I think they did the right thing for the institution," Craig said, adding he had yet to talk with Whalley, Scamman or Weyler about a brokered arrangement.
"I always thought if anybody wanted to talk it would start after the Ethics Committee vote today. We'll see if I'm right."
The 147 House Democrats are expected to meet privately this afternoon and decide if they intend to act as a bloc.
Traditionally, they have voted for their leader for speaker on the first ballot, but they could influence which Republican gets the gavel if Craig were unable to appeal to enough GOP members.
"Craig is in the catbird's seat,'' said a veteran Republican lawmaker who is now supporting Scamman.
Still, Whalley has some built-in advantages, especially in a frenzied 36-hour election that begins after the newly elected membership in the House takes the oath of office Wednesday morning at 10.
On Monday night, some committee chairmen already were telephoning their members to urge a vote of confidence for Whalley.
In addition, while Chandler fought these ethics charges brought against him in June, Whalley often traveled around the state with the incumbent to meet with Republican legislative candidates.
By contrast, Scamman only returns to the House officially on Wednesday after a 14-year absence.
Others in Chandler's inner circle bristled earlier this month that Scamman and supporters placed telephone calls to gauge support if Chandler chose to step aside.
"I have no problem with Doug." Chandler said Monday. "My loyalties are with Mike, and I hope he will understand that."
Chandler said Whalley showed "leadership qualities" in crafting a redrawing of legislative districts for eight of the state's 10 counties that won the support of some House Democrats.
"He's shown these leadership capabilities," he said. "He knows the issues thoroughly."
Republican State Chairwoman Jayne Millerick said there's not enough time for the 251 House Republicans to privately caucus and nominate someone else now that Chandler has stepped aside.
Two weeks ago, the group overwhelmingly had chosen Chandler, giving him 178 votes to 27 for DiFruscia. Thirty-one others protested both choices by submitting a blank ballot.