Foundation placed for Bedford Whole Foods
40,000-square-foot store's shell expected to be completed by November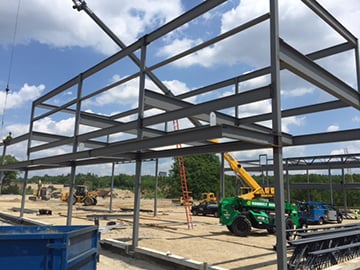 The foundations have been placed for the much anticipated 40,000-square-foot Whole Foods Market that will anchor the upcoming Goffe Mill Plaza in Bedford at the site of the former Sheraton Wayfarer Inn and Conference Center.
The complex also includes development of two restaurants, 73 apartment units, a fitness center, a Provident bank, and almost 8,000 square feet of retail space.
Manchester-based design-build firm ProCon, the architect and construction manager for the project, began construction of the mixed-use development in February.
Structural steel installation began in late May and was slated to last approximately six weeks. Bedford-based TFMoran, the project's civil engineer, will oversee the connection of power, water and sewer services by the town's utility companies in June. Concurrent work on the building pad for the bank is scheduled to be completed by the end of the month.
The Whole Foods shell and site work are expected to be completed in November 2015.