Former UNH-IOL director to speak at UNH Wildcatalyst Seminar
Erica Johnson is now the COO at QA Cafe in Portsmouth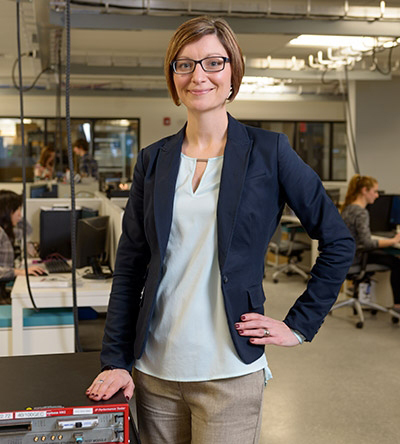 Erica Johnson, chief operating officer at a Portsmouth software company QA Cafe and former director of the InterOperability Lab (UNH-IOL), will speak at November's Wildcatalyst Seminar on Nov. 29.
Johnson is widely recognized as an industry leader with her abilities to drive technical innovation. Under her leadership over the last decade, the UNH-IOL enjoyed tremendous revenue growth and industry partnership opportunities due to her business acumen and in-depth understanding of complex networking technology, according to UNH. In her new role as COO for QA Cafe, she is responsible for oversight of business operations and delivery of continued growth strategies for the company.
This year's Wildcatalyst Seminar Series is centered around the theme of women in research and innovation. Johnson, a proponent for the advancement of women in STEM, was deliberate in ensuring that women were equally represented and elevated at the UNH-IOL. In 2010, she was awarded the UNH Women's Commission's Stephanie Thomas Staff Award in honor of her achievements in promoting and embodying the advancement of women in the sciences. She has also been recognized by the NH Business Review with its Outstanding Women in Business award, and was honored in Fierce Telecom's list of "Women in Wireline."
In this seminar, Johnson will share her advice for running and growing a research and innovation-based small business/start-up. She will also open up a dialogue about the unique challenges she has faced as a woman in a leadership role in a technology-based venture and discuss her thoughts on what resources are needed for the next generation of female innovators.
The talk will take place at UNHInnovation at 21 Madbury Road in Durham, on Thursday, Nov. 29 at 4:30 p.m., and will be followed by free beer and refreshments from 5:30 to 6:30 p.m. Click here to register.