Former Kingsbury site in Keene on the market for $4.5m
300,000-square-foot building, land listed by Paul McInnis Inc.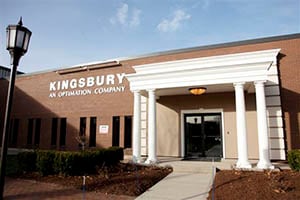 The Keene site of the former Kingsbury Corp. machine tool maker – once one of the largest employers in southwestern New Hampshire – is for sale at a listing price of $4.5 million.
The Keene Sentinel reported that the property is listed by North Hampton-based real estate firm Paul McInnis Inc. Owner of the property is Manchester businessman Brian J. Thibeault, who purchased the 300,000-square-foot building and surrounding land for $50,000 at a foreclosure auction May 7. The property came with back taxes of $553,190.
The land and building are assessed by the city at $1.5 million.
There are many options for property redevelopment, including residential and mixed-used development, said Christopher McInnis, real estate broker and vice president of North Hampton-based real estate firm Paul McInnis Inc.
"We're based on the Seacoast, but this is a client of ours that acquired the property; we're working with them to see the highest and best use going forward," McInnis told the Sentinel.
In the past year, the city of Keene has negotiated with Thibeault about buying some or all of the property, the Sentinel reported.
The Sentinel said the city is particularly interested in purchasing parts of the property to help prevent flooding around Beaver Brook, but officials are also interested in working with any firms that plan to redevelop the 22-acre Laurel Street property.
Although McInnis was unsure how long it could take for the property to be sold, he Sentinel reported, he said it could be within a year. He added that the property should attract "some substantial interest" from developers.